Photos Claiming to Be of New Lightning Cable with Reversible USB Connector Surface
Apple may be shipping a new Lightning cable that features a reversible USB connector with forthcoming iOS devices, reports Chinese website Dianxinshouji.com (Google Translate, via Nowhereelse.fr).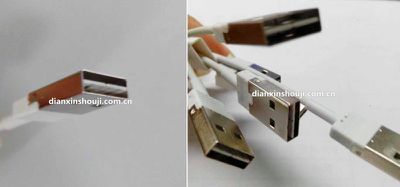 The source shares a few photos of the new cables said to be from Apple supplier Foxconn, with the images showing a USB connector that is attached to the center of its metal casing. By comparison, the USB connector on Apple's current Lightning cable attach against the bottom of the metal housing's inner surface.


While it is unable to tell for sure whether these cables are legitimate or not, it is possible that Apple could ship new Lightning cables to match the forthcoming USB 3.1 cables that will soon come with newer smartphones. As revealed last week by the USB 3.0 Promoter Group, the USB 3.1 Type-C cable comes with reversible ends and will start shipping next year. An Apple patent for a reversible USB connector also surfaced last month, perhaps further indicating that the company will look to equip its newer devices with new Lightning cables at some point.
Furthermore, a report this past May from Mac Otakara claimed that Apple is preparing an upgraded Lightning cable to accommodate high-definition playback on Made for iPhone audio accessories, which may include a next-generation version of its In-Ear Headphones. Apple also introduced Lightning Cable MFi specifications for headphones in June, which could also be integrated with newer Lightning cables.
Apple is expected to launch the iPhone 6, next-generation Retina iPad mini and iPad Air 2 by the end of this year, as a new Lightning cable could technically be packaged with those devices.