Apple's Rumored Reversible USB Connector Supported by Patent Filing, but Likely to Face Challenge
Several leaked photos in recent days have suggested Apple may be looking to move to a reversible USB connector for its next-generation Lightning cables, making it easier for users to plug the cables into their computers, chargers, and other equipment with standard USB ports.
As noted by Patently Apple late last week, the idea is actually supported by an Apple patent application filed in January 2014 covering just such a design. The application was published just a few weeks ago and cites as priority a provisional patent application filed by Apple in January 2013.
Apple isn't the only company with this technology, however, so it is unclear exactly how this situation will play out given that Apple's patent application was only assigned to an examiner ten days ago. A California company by the name of UltraTek already holds a patent for the reversible connector and is selling cables through major online retailers.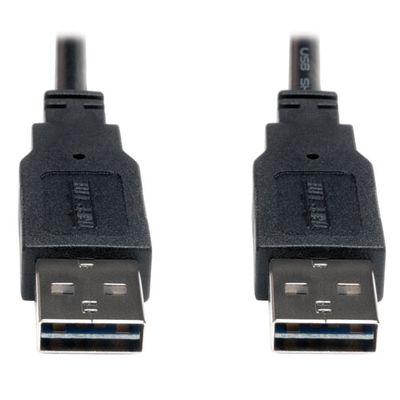 UltraTek first filed a patent application for its "User-Friendly USB Connector" technology in 2009 and was awarded the patent by the U.S. Patent and Trademark Office in 2010. In the patent, the company describes a cable with two sets of conductive contact pins that allow it to be inserted into a USB port in either orientation.
A new user-friendly USB (Universal Serial Bus) male connector is physically and functionally compatible to the existing and future USB female connectors. Unlike the conventional keyed, polarized and position dependent USB male connector. The new user-friendly USB male connector provides spare connections, eliminates potential connector damage and allows normal and opposite insertions to the USB female connectors.
More than just a patent, UltraTek is marketing its reversible cable under the brand name, Flipper, with distribution through TrippLite. Different configurations of the reversible USB cables can be purchased through retailers such as Newegg, TigerDirect and others for less than $10.
Given its resources, Apple would undoubtedly be able to overcome the existing patent protection on the concept of reversible USB connectors, either through licensing/purchasing the existing patent or finding a way to work around it. The existing patent is, however, rather broad in describing the concept of a reversible "Type A" USB connector of the sort apparently being considered by Apple.