Another Image of New Lightning Cable with Reversible USB Connector Surfaces
Earlier this week, photos claiming to be of a new Lightning cable with a reversible USB connector surfaced. The images were said to be sourced from Apple supplier Foxconn, and were shown in a production stage. Now, frequent iOS device part leaker Sonny Dickson shares a new photo of the accessory, further indicating that a new Lightning cable with a reversible USB connector may be on the horizon: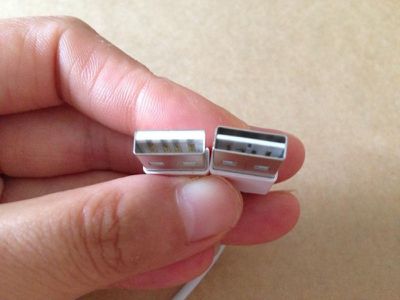 The current Lightning cable (left) compared to new Lightning cable (right)


While the USB connector on the current Lightning cable is attached to the bottom of its metal housing, the connector of the supposedly newer cable is attached to the center. The structure of the newer cable was also spotted in previous photos, and likely indicates that this is a reversible USB connector. It is also therefore possible that the new Lightning cable could utilize USB 3.0 technology, as current Lightning cables support only USB 2.0. However, no other evidence suggests that the cable could be of the USB 3.0 variety.

Apple could start shipping new cables alongside forthcoming iOS devices starting with the iPhone 6. In addition to a reversible connector, the new Lightning cable could also feature support for high-definition audio playback on Made for iPhone accessories as rumored by Mac Otakara earlier this year. That report further claimed that Apple was preparing a new version of its In-Ear Headphones, which have not been updated since 2008.

Apple also introduced Lightning Cable MFi specifications for headphones in June, paving the way for manufacturers to create products that connect directly to iOS devices via their Lightning port rather than through a regular 3.5mm headphone jack. Those products could also see integration with revamped Lightning cables.