Apple Launches Email Ad Campaign Focusing on Productivity
Apple today began a new email ad campaign drawing customer attention to the iPad's productivity capabilities by highlighting several different Business-oriented apps for the tablet, including Pages, Numbers, Keynote and Microsoft's Office apps for iPad.
iPad is the perfect way to be more productive than ever. Its powerful apps are designed to take full advantage of the things only iPad can do. So you'll have everything you need to do what matters most.
The email advertises how customers can create documents, spreadsheets, and presentations with Apple's own iWork software, available for free with every new iPad, and it also points towards Word, Excel, and PowerPoint, which were released for the iPad in March.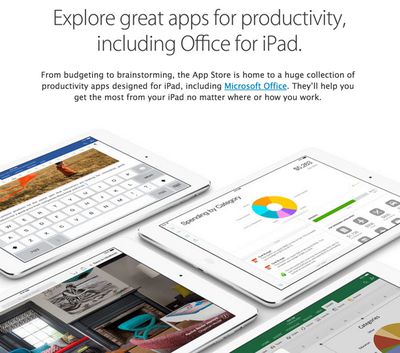 Competitors like Microsoft and Samsung have launched aggressive ad campaigns attempting to position the iPad as a content consumption device without the multitasking capabilities or the software to allow it to serve as a true PC replacement, but Apple has fired back in recent months with an equally aggressive "Your Verse" iPad campaign that shows the iPad being used in hundreds of different ways for a variety of vital tasks that range from composing to choreographing to mountaineering.
Microsoft used the lack of Office software on the iPad as a main advertising point for its Surface tablets throughout 2013, before releasing an iPad version of the productivity software earlier this year. Microsoft has actually seen enormous success with Office for iPad, garnering 35 million downloads as of July, suggesting millions of customers are using their iPads for productivity-oriented tasks like creating documents and presentations.
In addition to sending out emails, Apple launched a promotion for several different productivity apps in the App Store last week, offering discounts on apps like Fantastical, Clear, Notability, Scanner Pro, and more. That sale lasts until August 14.
The company has also been continuing to expand its "Your Verse" advertising campaign, releasing two new stories earlier this morning highlighting Chinese electropop group Yaoband and Detroit Slow Roll city bike ride cofounder and organizer Jason Hall.
Apple's focus on productivity comes just weeks after the company inked a deal with IBM that will see the two companies teaming up to push for more iPads in enterprise environments.