Samsung Bashes the iPad, Microsoft Surface and Kindle in New Ad
Samsung has released a new anti-Apple advertisement that highlights the perceived shortcomings of the iPad in comparison to Samsung's new Galaxy Tab Pro and Galaxy Note Pro tablets. Targeting not only Apple, the ad also criticizes Microsoft's Surface tablet and the Amazon Kindle.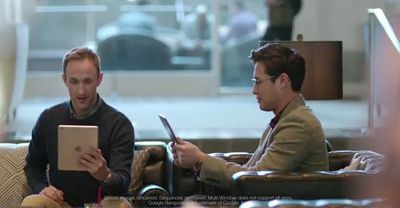 The ad uses three scenarios to highlight the advantages of the Galaxy Pro series over its competitors. The first is a business conference call, during which the Galaxy owner is able to talk and simultaneously send a report because of the Galaxy's multitasking feature that allows him to display multiple Android applications at once on the screen. There's also a slight jab at the Microsoft Surface, which is ridiculed for being "computer-like" because of its keyboard, battery pack and mouse.
The ad then switches to more personal uses of the tablet with a quick dig at Amazon's Kindle device, which can only read books, while the Galaxy can pull up YouTube videos during a book club meeting. The harshest comment comes at the end when two ladies at a spa are comparing their iPad and Galaxy tablets. The discourse on the lower screen resolution of the iPad (2048-by-1536 resolution) when compared to the Galaxy Pro (2560-by-1600 resolution) ends with a condescending smile from the Galaxy owner when the iPad owner retorts that her iPad has "the retina thingy."
Samsung has a history of chiding its competitors in commercials, so it's not surprising to see the Korean company take on the iPad shortly after unveiling its Galaxy Pro series earlier this year.
The Galaxy Note Pro features Samsung's S-Pen technology, while the Tab Pro is the company's standard tablet. The Galaxy Note Pro is available in a 12.2-inch size, while the Galaxy Tab Pro ships with 12.2, 10.1 or 8.4-inch displays.