Apple Debuts Two New 'Your Verse' iPad Stories Featuring Electropop Group 'Yaoband', Detroit 'Slow Roll' Cofounder
Apple's "Your Verse" website highlighting the various ways that people use their iPads has been updated with two new stories, featuring electropop group Yaoband and Jason Hall, founder of a biking program in Detroit.
Luke Wang and Peter Feng, the two Chinese musicians who make up Yaoband, use their iPads to capture audio samples, turning them into beats. In a video on Apple's site, the duo are depicted using the iPad to capture sounds like water flowing over rocks in a river, water dripping from a faucet, a spoon on a bowl, a ringing bell, and more.
Various audio apps then allow them to mix sounds, styles, and techniques, creating a unique sound. To capture and make music, Feng and Wang use apps like iMaschine, iMPC, Music Studio, Notes, MIDI Designer Pro, Figure, and TouchOSC.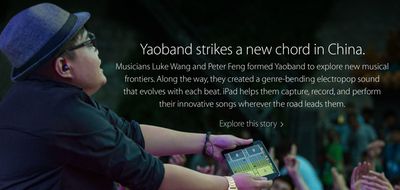 With iPad, Luke Wang has the power to make every show unique. "I'll add new apps, new techniques, and new ideas during the show," he says. By adding fresh elements to the music, even in a live performance, Yaoband lives up to its vision of an ever-evolving sound. "Creativity and innovation are the essence of music," says Peter. "For us they're what keep the power of music alive."
Jason Hall, who cofounded Detroit's Slow Roll city bike ride that thousands of people participate in, uses his iPad to organize the event, plan routes, create posters, communicate with other organizers, check the weather, and more. Hall uses apps like Mail, Calendar, Facebook Pages Manager, Prezi, Penultimate, and Phoster, managing each bike ride from start to finish on his iPad.

"I wanted to convince other people to see Detroit the way I was seeing it," he says. "The plan was, let's start a bike ride and see if people want to go with us."

It began simply enough. Just 10 friends on a Monday night ride. Soon it was 20. Then 30. In its second year, the ride grew from 130 to 300 cyclists in two weeks. As the numbers increased, Hall turned to his iPad and made it the command center for all things Slow Roll. "We use it for everything we do, from mapping to communicating to ordering new T-shirts," he says."
Apple's newest stories, which are part of its "What will your verse be?" campaign and a continuation of its "Life on iPad" ad campaign, join several previous stories that have shown the iPad being used in a multitude of creative ways. Featured iPad users have included conductor Esa-Pekka Salonen, travel blogger Chérie King, mountaineers Adrian Ballinger and Emily Harrington, choreographer Feroz Khan, and biologist Michael Berumen.
Update 2:30 PM PT: Apple has now posted two YouTube videos on the new "Your Verse" stories featuring Yaoband and Jason Hall, which are embedded below.