Apple and IBM Team Up For Major Enterprise Mobility Partnership
Apple and IBM today announced plans for an exclusive partnership that will see them teaming up to "transform enterprise mobility" through a series of new business apps and services for iOS devices that will undoubtedly skyrocket Apple's enterprise sales.
IBM will begin selling iOS devices to its corporate customers and will also create more than 100 industry-specific native apps that are built from the ground up for the iPhone and the iPad. IBM will provide cloud services optimized for iOS as well, with capabilities like device management, security, analytics, and mobile integration.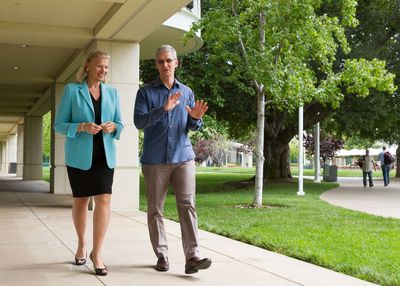 Apple CEO Tim Cook and IBM CEO Virginia Rometty (Apple/Paul Sakuma)
"iPhone and iPad are the best mobile devices in the world and have transformed the way people work with over 98 percent of the Fortune 500 and over 92 percent of the Global 500 using iOS devices in their business today," said Tim Cook, Apple's CEO. "For the first time ever we're putting IBM's renowned big data analytics at iOS users' fingertips, which opens up a large market opportunity for Apple. This is a radical step for enterprise and something that only Apple and IBM can deliver."
As part of the deal, Apple also has plans to offer a new AppleCare service that will be tailored to meet specific enterprise needs. IT departments and end users will both have access to 24/7 support assistance from Apple and on-site service via IBM.
Tim Cook and IBM CEO Virginia Rometty appeared on CNBC to discuss the news, where Cook said the partnership is about "transforming enterprise" and delivering on "the promise of mobile in a big way."
According to Cook, Apple began speaking with IBM a couple of years ago about possible partnerships, and the enterprise arena is where the two companies felt they could come together. "It takes the best of Apple and the best of IBM and it puts those together," he said. "There's no overlap, no competition, they're totally complementary, and more than anything, it focuses on the enterprise customer."
Rometty also commented on the deal, saying it's all about "unlocking mobility in the enterprise." IBM is committed to addressing issues that have inhibited enterprise expansion on mobile devices, including security, and the two companies have several goals to reach, according to Rometty: "One is growth for both our companies, but the second thing is this idea that-- we have both-- Tim and I talked often about remaking business and re-envisioning, reimagining professions."
Following Apple's announcement, Cook
sent a memo
on the new partnership to Apple employees (via
9to5Mac
) noting that the deal brings together Apple's "legendary ease-of-use and integrated hardware and software" with IBM's "unmatched industry depth, enterprise software, and expertise in big data analytics."
It also builds on the incredible momentum in Apple's enterprise business. iPhone and iPad can be found in 98% of the Fortune 500. People love to use iOS devices and Apple delivers the things companies need most—security and scalable deployment along with a powerful platform for apps. With this announcement, we're now putting IBM's renowned big data analytics at iOS users' fingertips, which opens up a large market opportunity for Apple.
Apple has also updated its iPad in business site with new details on the deal between the two companies and a link to IBM's own Mobile First website designed for enterprise customers interested in iOS devices.
IBM's first apps, tailored specifically to various industries like retail, healthcare, banking, travel, transportation, and more, will be coming this fall, with additional apps following in 2015. The company also has plans to roll out its MobileFirst Platform for iOS, with benefits like analytics, cloud storage, fleet-scale device management, a private app catalog, and data and transaction security services.