EU Finds Apple Lacking in Efforts to Address In-App Payment Issues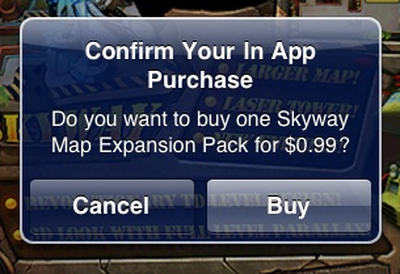 The European Commission announced today that Apple has not adequately addressed the issue of unauthorized in-app purchases, providing "no concrete and immediate solutions" to the problem, reports Reuters. This subject of in-app purchases within free apps was the focus of a recent EU investigation following complaints from several consumer groups in European Union member countries.
Apple said in a statement that it would address these concerns, but failed to disclose when and how it would make any necessary changes.
Apple takes great pride in leading the industry in parental controls that are incredibly easy to use and help ensure a great experience for parents and children on the App Store. The parental controls in iOS are strong, intuitive and customizable. And over the last year we made sure any app which enables customers to make in-app purchases is clearly marked. We've also created a Kids Section on the App Store with even stronger protections to cover apps designed for children younger than 13.

These controls go far beyond the features of others in the industry. But we are always working to strengthen the protections we have in place, and we're adding great new features with iOS 8, such as Ask to Buy, giving parents even more control over what their kids can buy on the App Store.

Our goal is to continue to provide the best experience for our customers and we will continue to work with the EC member states to respond to their concerns.
Apple faces legal action from European Union member countries if it is found to be in violation of the EU consumer protection law. The company currently is being investigated by Italy's Antitrust and Competition Authority, which is reviewing in-app purchasing policies for apps that are labeled as "free." Apple faced similar scrutiny in the US, recently settling with the FTC in an agreement that provided $32 million in refunds to parents whose children purchased unauthorized in-app items.
Apple's lawyers had tattled on Google to the FTC in an effort to point out that Apple was not alone in experiencing issues with unauthorized in-app purchases by children, but the EU today praised Google for its changes to address the problem, including moves to ban the use of the word "free" when referring to apps with in-app purchases.
Apple has implemented a series of changes in recent versions of iOS that prevent errant in-app purchases. iOS now requires users to enter their passcode before initiating an in-app purchase, notifies consumers before an in-app purchase is made and obtains express consent from consumers before billing them for an in-app purchase. More recently, Apple added an "Offers In-App Purchases" disclosure to app detail pages and inserted an "In-App Purchases" label for apps listed in its featured Top App Charts