Apple Adds 'Offers In-App Purchases' Disclosure for App Store Apps [Update: Now on iOS Stores]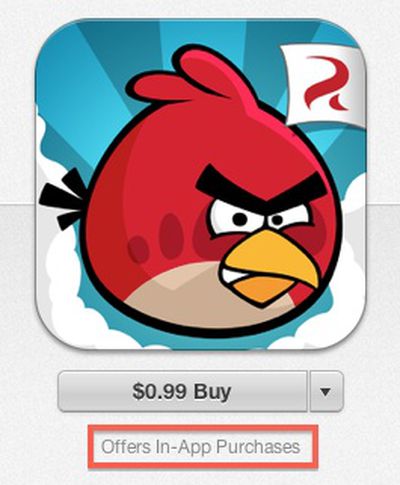 As noted by The Guardian, Apple today rolled out a new "Offers In-App Purchases" disclosure directly underneath the Buy/Free button for App Store apps supporting the feature. The addition helps make clear to potential purchasers that free or even paid apps may require additional purchases in order to unlock the apps' full functionality or for other benefits such as acquiring in-game currency.
The new tagline is currently only appearing in the desktop version of the App Store that sits within iTunes. For now, it's not shown in the iOS App Store app, nor does it appear on webpages for iOS apps.

Apple confirmed to The Guardian that the message is a new addition to the App Store. Its location – directly below the icon and "Free" button on each app's page – makes it even easier for people to identify that an app uses in-app purchases (IAP) before downloading it.
Apple just recently settled a lawsuit over the issue of children being able to make unauthorized in-app purchases sometimes totaling as much as thousands of dollars. With today's move, Apple is clearly attempting to make it even more clear to users before they download or purchase an app whether it includes In-App Purchase content.
The report notes that Apple could easily use the new disclosure to deploy a filter that would allow parents to restrict their children's downloads to only free apps with no In-App Purchase content, but the company has not yet taken that step.
Update: The notifications are now on the iOS App Store as well.