Intel CEO 'Guarantees' Broadwell Chips by This Holiday Season
Intel CEO Brian Krzanich has stated that Intel's next-generation Broadwell processors will launch during this holiday season, reports Reuters (via MacG).
"I can guarantee for holiday, and not at the last second of holiday," Krzanich said in an interview. "Back to school - that's a tight one. Back to school you have to really have it on-shelf in July, August. That's going to be tough."
Originally expected to launch in Q3 2014, Krzanich noted that new manufacturing technologies are responsible for the delays surrounding Broadwell, but maintained that Intel is now on schedule to ship its new chips to manufacturers later this year. The statement comes after a leaked Intel roadmap surfaced this past February, which appeared to show an uncertain timetable for Apple's 2014 Mac updates.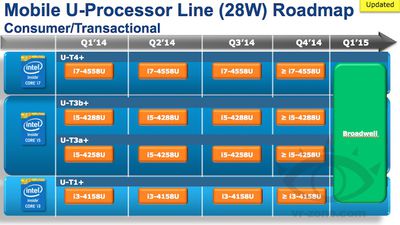 With Intel's Broadwell chips launching near the end of this year however, it is possible that Apple could either choose to wait until next year to integrate Broadwell chips into the Retina MacBook Pro or launch updated models with slightly faster Haswell chips. Apple updated its standard models of the MacBook Air last month with a faster 1.4 GHz dual-core Intel i5 processor while cutting the price by $100.
It is also possible that Intel's new Broadwell chips could be used in the rumored 12-inch MacBook Air, which may coexist alongside or replace the current MacBook Air line. However, it is uncertain which specific chips Apple would use for the new notebook, as prior reports have pointed to the machine coming out towards the end of the third quarter.
As far as a next-generation iMac goes, Apple could also choose to hold off on an update until the appropriate Broadwell chips are out. However, a report last month claimed that Intel's faster Haswell desktop CPUs could arrive in May, with Apple perhaps launching updates sooner rather than later.
Apple is also rumored to have a low-cost iMac in the works, which could utilize more cost-efficient chips. According to KGI Securities analyst Ming-Chi Kuo, the low-cost desktop computer could boost sales in critical foreign markets and increase shipments by up to 30 percent.