Intel Unveils Fanless PC Reference Design Based on Upcoming Broadwell Chips
Intel today showed off a new reference PC design built around the company's upcoming Broadwell Core M processor. The Core M is based on a 14 nm process and will the first Broadwell chip to be made available to manufacturers, who are expected to debut the chip in retail products by the end of this year.
With Intel experiencing difficulties and delays with the development of Broadwell, the current Haswell generation has been stretched out somewhat with only modest "Haswell refresh" bumps taking place in recent months to tide users over until Broadwell. With improved performance and efficiency, Broadwell is seen as a significant opportunity for innovation in personal computers.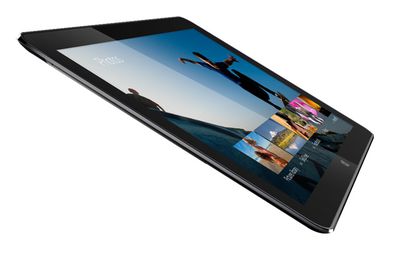 Intel's reference design for hybrid tablet-notebook running on Broadwell
At Computex, Intel president Renee James showcased the first Core M device -- a 12.5-inch tablet-notebook hybrid that is thinner than the iPad Air, has a fanless design, and provides energy-efficient performance for mobile users.
The innovative design is based on the first of Intel's next-generation 14nm Broadwell processors that are purpose-built for 2 in 1s and will be in market later this year. Called the Intel Core M processor, it will deliver the most energy-efficient Intel Core processor in the company's history. The majority of designs based on this new chip are expected to be fanless and deliver both a lightning-fast tablet and a razor-thin laptop.
Apple has been rumored to planning to release a fanless Retina MacBook Air later this year, but it is unclear exactly what technology Apple will use to achieve that design. The Core M processor being shown by Intel today is part of the Broadwell-Y series that runs at just a handful of watts, while the MacBook Air currently includes Haswell-U series chips running in the 15-watt range. Broadwell-U chips are expected, although perhaps not in significant quantities until early 2015.