Apple Adds Several New CarPlay Partners, Including Fiat Chrysler Brands and Mazda
Apple today expanded its list of automobile manufacturer partners that plan to support CarPlay in future models, adding a number of brands from the Fiat Chrysler group: Abarth, Alfa Romeo, Chrysler, Dodge, Fiat, Jeep, and Ram. Also officially joining the list of CarPlay partners today is Mazda (via Wired). These additions follow a recent announcement by Audi, which plans to integrate Apple's CarPlay system into its vehicles beginning in 2015.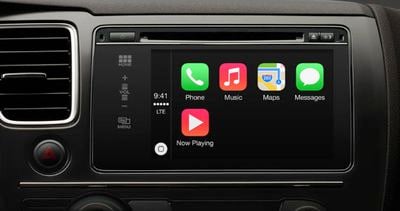 These new partners join existing CarPlay partners Mercedes-Benz, Volvo, BMW, Ford, Hyundai, GM, and Honda, which are introducing CarPlay compatible vehicles before the end of the year, and a number of other brands promising future support. Besides new cars, Alpine and Pioneer also are adding CarPlay support to their aftermarket consoles, allowing owners of existing automobiles to adopt Apple's in-dash car technology.
CarPlay uses an automobile's built-in dashboard display to provide hands-free operation of your iPhone. Drivers will be able to take advantage of the Siri-powered technology to make calls, receive messages, get directions and listen to music while keeping their eyes on the road.