Apple Updates WWDC App for 2014 with iOS 7 Design and New Orange Theme
Apple has updated its WWDC app for this year's developer conference in San Francisco, with the app confirming that WWDC will kick off with the usual keynote address scheduled from 10 AM to noon Pacific Time on Monday, June 2.
Unlike last year's update that brought new features such as video integration, today's update appears to include no significant feature additions, although it does include a new orange theme and a new look more consistent with Apple's iOS 7 design language. As is generally true ahead of the event, the conference schedule includes many developer sessions for which topics have yet to be announced, but this year Apple has used a number of clever placeholder names until after details are released at the conference keynote.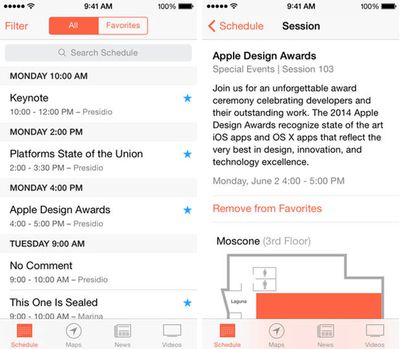 WWDC 2014 will kick off on June 2, and CEO Tim Cook is expected to lead the keynote with other executives pitching in to help share the latest news on Apple's hardware and software. Apple's WWDC app is available free of charge from the App Store. [Direct Link]