Wild Rumor of Apple EarPods with Biometric Sensors Has Roots in Apple's Research
A seemingly wild rumor of Apple planning to launch new EarPods headphones with integrated heart rate and blood pressure sensors has been making the rounds today after the claim was posted on anonymous information sharing platform Secret (via Reddit).
Apple's new EarPods will have sensors in them, for heart rate & blood pressure. Also iBeacons so they don't get lost. They will require the lightning port, it's why the audio jack was moved to the bottom. [...]

It stores the data in a similar way to thumbprint point data, fully encrypted and nothing identifiable. But nice to send to your doctor to keep track of at which point your blood pressure started rising for example. [...]

Redesigned remote too. Extra mic for better noise canceling.
While a number of major tech stories have in fact broken on Secret, the anonymous nature of the platform makes it all but impossible to separate legitimate claims from fiction without corroborating information from other sources. As a result, it's easy to dismiss this EarPods rumor from someone claiming to have recently been let go from Apple.
But what makes the rumor a bit more interesting is that it has roots in Apple's research as documented in patent applications dating back years. Whether the Secret rumor is a fake inspired by those patent filings or if there actually is something to it is unknown, but it's worth taking another look at what Apple has proposed.
In one patent application filed in March 2007 and claiming a priority date of September 2006, Apple proposes using sensors integrated into various accessories or even devices themselves to collect physiological data.
The present invention can include systems and methods for integrating sensors for tracking a user's performance metrics into electronic devices and accessories therefor. In one embodiment of the present invention, the electronic devices can include portable media devices similar to iPods sold by Apple Inc. of Cupertino, Calif. or cellular telephones similar to iPhones designed by Apple Inc.

In one embodiment, the present invention can include headsets having one or more integrated physiological sensors. The headsets can be, for example, headphones for receiving audio signals from a media device or headsets for communication with cellular telephones. The sensor signals can be transmitted to a data repository through the same communication channel through which audio signals are transmitted to the headset (e.g., hard-wired or wireless).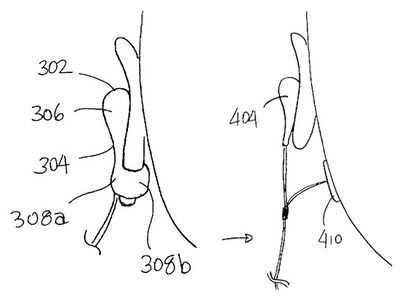 Apple's concepts for sensor clipped onto earlobe (left) to monitor pulse/oxygen levels or adhered to the skin (right)
Alternatively, Apple proposes using sensors embedded in an iPod or iPhone "sling" armband to monitor such data. Notably, two of the inventors listed on the patent filing are longtime accessories head Jesse Dorogusker, who moved to Square in 2012, and "father of the iPod" Tony Fadell, who left Apple in 2008 before starting Nest.
A second filing, which was granted as a patent this February, more directly addresses headphone-based physiological monitoring, although the application is also quite old, having been filed in August 2008 with an October 2007 priority date.
The invention pertains to a monitoring system that can be placed proximate to the head or ear of a user. According to one embodiment, the monitoring system can be used with a hearing device, headphones, earbuds or headsets. The monitoring system can, for example, be used to monitor user activity, such as during exercise or sporting activities. The positioning of the monitoring system can also facilitate sensing of other user characteristics (e.g., biometric data), such as temperature, perspiration and heart rate.

Advantageously, the invention can provide monitoring capabilities within a hearing device. Assuming the user is otherwise using the hearing device, such as to provide audio output by a portable media player, the user gains monitoring capabilities without requiring the user to wear or carry an additional article.

Apple's concepts for sensors integrated directly into earpiece (left) or in a separate housing (right)
Biometrics have been rumored to be a significant part of iOS 8, with a new "Healthbook" app for tracking various types of health-related information being a key addition to Apple's mobile operating system. With Apple also rumored to be deploying biometric sensors in an upcoming iWatch, it's clear that the company has been looking at ways of collecting health-related data for many years and the effort may finally be coming together.