No Revamped Apple TV or iWatch Expected at WWDC
Apple does not have plans to use the company's upcoming Worldwide Developers Conference to debut new Apple TV hardware, its related software, or the iWatch, reports John Paczkowski of Re/code.
Citing sources familiar with Apple's plans, Paczkowski confirms that Apple's big announcements will focus on OS X 10.10, iOS 8, and possibly Healthbook, an app Apple is said to be developing to aggregate fitness and health information.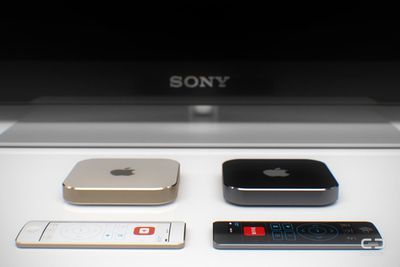 Sources familiar with Apple's plans tell Code/red that Tim Cook will not use WWDC to unveil Apple's mythical wearable device. Nor will he use it to show off a new Apple TV, or even preview the new software the company is developing for it. Which makes perfect sense, really. There's little point in Apple unveiling a new OS in advance of a significant hardware update.
Apple's Worldwide Developers Conference, which starts on June 2, has historically been used as a platform for unveiling new operating system software. Apple has, however, occasionally debuted new hardware at the event, including new MacBook Airs in 2013 and the Retina Macbook Pro in 2012.
Though the company does not have plans to unveil an updated Apple TV set-top box at WWDC, the product is said to be in the works. The revamped box is rumored to include an App Store, gaming support, iOS 7 controller integration, and possibly new content deals.
Apple may have had plans to debut the box earlier in 2014, but according to a recent product roadmap from often reliable analyst Ming-Chi Kuo, we may not see an updated Apple TV until the third quarter of 2014.
As for the iWatch, which also remains in development, a late 2014 release date is expected.