Apple Hiring MIT Researcher With Expertise in Ear-Worn Vital Signs Monitor
Apple may be adding to its wearables team, as MIT researcher Eric Winokur will be joining the company in the coming weeks, according to a source who spoke to MacRumors. Winokur, who does research at MIT's Medical Electronic Devices Realization Center, has recently worked on an ear-worn "wearable vital signs monitor." According to his LinkedIn page, one of his specialties is "wearable medical device R&D."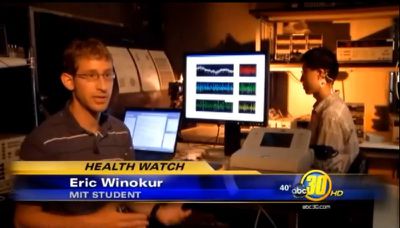 My professional experience includes many aspects of research and development in the electrical engineering field, with an emphasis on medical monitors. From conceptualizing designs to following through with circuit layout (both IC and PCB) and building full prototypes, I have enjoyed being involved in the entire process.

Specialties: Wearable medical device R&D, circuit design, PCB and IC layout, signal processing, physiological to electrical signal conversion
Winokur is listed as an author on a number of academic papers focusing on cardiovascular ear-worn devices that measure vital signs. His work was published in two 2012 papers, the first entitled "An ear-worn continuous ballistocardiogram (BCG) sensor for cardiovascular monitoring" and the second entitled "A wearable vital signs monitor at the ear for continuous heart rate and pulse transit time measurements." Ballistocardiography aims to measure the movement of blood into major vessels with each heart beat.
Both papers describe an ear-worn device that is designed to wirelessly monitor vital signs using a built-in triaxial accelerometer. The devices are described as taking on the form factor of a hearing aid and are wirelessly connected to a PC for data recording and analysis.
Word of Winokur's hiring comes just as a rumor has surfaced claiming Apple is planning to launch EarPods headphones with integrated heart rate and blood pressure sensors. While the claim is extremely sketchy, Apple patent applications have revealed the company's interest in integrating biometric sensors into headphones in the past.
Regardless, it is unclear if Winokur will continue his work on ear-worn monitoring devices at Apple or perhaps move to focus on wearables in general, such as the iWatch. Given the timing of his hiring, it is unlikely his expertise will impact any of Apple's product plans rumored for later this year, but he may certainly contribute to the company's ongoing efforts in the health and wearables area.
In a 2011 interview with ABC, Winokur described the benefit of the medical device he was developing, suggesting it was to be worn in the ear all day for continuous monitoring of blood pressure and heart rate.
"The goal is to have this worn, basically throughout the day," Eric Winokur, an MIT Ph.D. candidate told Ivanhoe.

It measures heart rate and blood pressure at your head, and could help doctors track conditions like high blood pressure more accurately and continuously to better personalize treatment.

Winokur listed some typical questions that patients will be able to get answers to using the device, "Is my medication working? Should I increase it? Should I decrease it? What's my overall health?".
In recent months, Apple has taken an intense interest in health monitoring, hiring multiple health experts with a range of skills and interests, including non-invasive monitoring of heart rate, oxygen saturation, glucose, and more. Many of the experts have joined the company's iWatch team, focusing on developing a sensor-laden wearable device that may be released later this year.
Alongside the iWatch, Apple is also developing iOS 8, which is said to have a heavy focus on health with its included "Healthbook" app, designed to aggregate health-related data from a variety of sources. While Winokur's role is currently unknown, he is set to join Apple next month.