Aerial Photo Shows Outline of Apple's Spaceship Campus Taking Shape
Construction on Apple's Campus 2 is continuing to progress and a new aerial photo courtesy of Ron Cervi, KCBS news and traffic reporter, shows that all of the buildings on the site have now been demolished in order for new work to begin.
The area where the circular-shaped building will be constructed is cleared out, allowing us a glimpse at where the campus itself will be located. Apple has moved quickly with this project, having first begun working on the project just a few months ago after receiving unanimous approval for the project in November.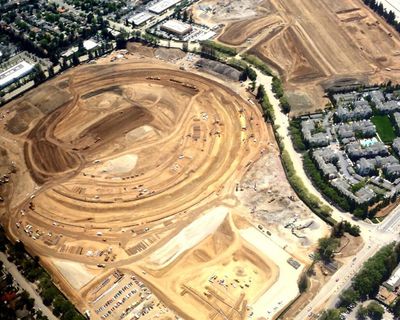 Street-level photographs back in December revealed several buildings still standing, but another aerial photo from February suggested a large portion of the demolition work had been completed. During construction, Apple has closed off sidewalks and built a large green privacy fence to keep the area hidden.
Apple's second campus is located near the company's existing Infinite Loop campus. The first phase of construction will include the famous 2.8 million square foot ring-shaped main building with an underground parking facility capable of accommodating approximately 2,400 cars.
A 100,000 square foot fitness center and a 120,000 square foot auditorium will also be built, and during a
second phase of construction
, Apple will build an additional 600,000 square feet worth of office, research, and development buildings.
Apple hopes to finish the first phase of the Apple Campus 2 construction by 2016.