Demolition at New Apple Campus 2 Well Underway
Construction on Apple's Campus 2 project is underway, with the company continuing its demolition of existing buildings on the site. Demolition began soon after Apple obtained its ancillary permits following an initial unanimous October approval of the project from the Cupertino City Council.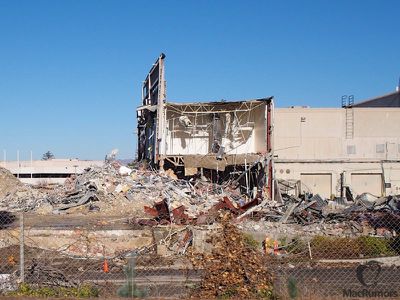 Road work and construction signs surround the area where demolition has begun, with a clear view of the demolished buildings available from the nearby highway. Apple has also constructed a large wall around the construction area to avoid impacting nearby businesses and residents. Large bulldozers and other equipment are within the campus area, clearing debris, and several sidewalk areas have been closed.



Visible demolition is taking place on the parcel of land that Apple purchased back in 2006, while the HP campus itself remains hidden behind walls and the tree line. The 50-acre prior purchase will make up the southern half of the campus that will house a massive parking structure while the main "Spaceship" building will be located in the northern portion of the property.



Apple received final approval for its Apple Campus 2 project back in November, and following a unanimous vote, Cupertino Mayor Orrin Mahoney told the company to "go for it."
Following the demolition of the existing buildings, phase 1 of the Apple Campus 2 construction will include the famous 2.8 million square foot ring-shaped main building with an underground parking facility capable of accommodating approximately 2,400 cars.
A 100,000 square foot fitness center and a 120,000 square foot auditorium will also be built, and during a second phase of construction, Apple will build an additional 600,000 square feet worth of office, research, and development buildings.
Apple hopes to finish the first phase of the Apple Campus 2 construction by 2016.