Apple Receives Final Approval for 'Spaceship' Campus From Cupertino City Council
Apple today received final approval for its Apple Campus 2 project from the Cupertino City Council after gaining a unanimous initial approval back in October. "Go for it," said Cupertino Mayor Orrin Mahoney, following tonight's unanimous vote in favor of the project. "We're eager to see it happen. Go for it."
With the vote, the Cupertino City Council approved the necessary ordinances to allow Apple to enter into an official Development Agreement with the City of Cupertino, which will see the company receiving its full set of building permits on November 20. Apple has already received ancillary permits allowing it to begin demolition of the former HP campus that is already on the site.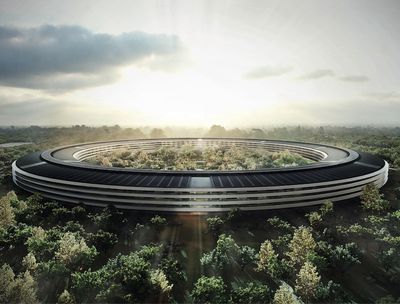 As part of the final agreement, Apple has agreed to increase the amount of taxes that it pays to the City of Cupertino, in the form of a reduction of the sales tax rebate that the company receives each year from the city (via The Los Angeles Times). Last year, Cupertino refunded 50 percent of the sales taxes it received from Apple-related purchases, but in the future, it will only refund 35 percent of sales taxes.
Phase 1 of the Campus 2 construction will include a 2.8 million square foot ring-shaped main building with an underground parking facility capable of accommodating approximately 2,400 vehicles. A 100,000 square foot fitness center and a 120,000 square foot auditorium will also be built. During a second phase of construction, Apple will build 600,000 square feet worth of office, research, and development buildings, along with additional parking and energy generation facilities.
Apple's Campus 2 is designed to be environmentally friendly, incorporating 80 percent green space with 300 different species of trees, orchards, and a central garden with outdoor dining areas. The facility will also use efficient water and landscaping in addition to garnering 70 percent of its energy from solar and fuel cells.
Apple plans to finish the first phase of the Apple Campus 2 construction by 2016.