Work at Apple's Campus 2 is well underway with most of the existing buildings now demolished and parking lot pavement removed, as shown in a recent aerial photograph (via MacGeneration) from Ron Cervi, a news and traffic reporter for KCBS. Demolition on the site began in November after Apple received unanimous approval for the project from the Cupertino City Council.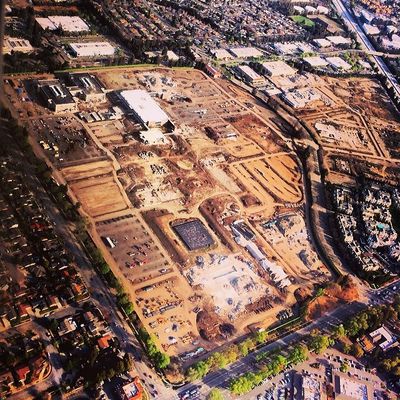 Earlier photographs from a street level view
revealed
the first stages of demolition back in December, with partially demolished buildings visible from a nearby highway. Several sidewalks were closed, while bulldozers and other heavy equipment started clearing debris from the 176-acre parcel.
Apple's Campus 2 is a short distance away from the company's current headquarters at 1 Infinite Loop in Cupertino, California. Eighty percent of the barren landscape shown above will be vegetated with over 4,500 trees in an endeavor that will "bring California back to Cupertino." The remaining 20 percent of the landscape will be dominated by a circular, 4-story building designed to hold 13,000 employees. The project has a target completion date of 2016.