New iPhone 6 Renderings Highlight Curved Display, Rounded Corners
Following a report from Mac Otakara yesterday claiming the iPhone 6 will feature a curved glass display and an all-aluminum rear shell, French website Nowhereelse.fr [Google Translate] and designer Martin Hajek have partnered up to showcase renders visualizing such a device based off of the recent information.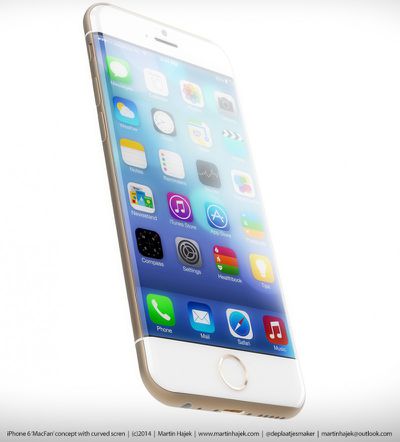 The renderings show an iPhone 6 that emphasizes rounded corners, complete with display glass that slightly wraps around the front of the device. Similar to other previous renders, the phone is shown with a power button on its upper right side, with rectangular volume controls on its left. The bottom of the device is also shown housing a headphone jack, Lightning port, and speaker.


To this point, multiple reports have indicated that the iPhone 6 will feature slightly rounded edges, which would be a departure from the straight edges seen on the iPhone 4 and 5s. However, only Bloomberg noted that the device will carry a curved glass display, with a report last December stating that Apple would be releasing two iPhones will large curved screens in the second half of 2014.

iPhone 5s (left) and iPhone 6 with curved glass display (right)


Apple is expected to launch the iPhone 6 later this year in two different sizes of 4.7 inches and 5.5 inches. According to recent reports, the 4.7-inch version will be the first to ship, while the larger 5.5-inch version will ship later as Apple attempts to solve issues with the phone's battery life and display.

Aside from a larger display, both models of the iPhone 6 are expected to feature a thinner profile, faster A8 processor, an improved camera with optical image stabilization, and Touch ID fingerprint sensor. According to Jefferies analyst Peter Misek, Apple is also negotiating with carriers for a $100 price increase on the iPhone 6.