iPhone 6 Reportedly Launching 'As Early As September' in 4.7- and 5.5-Inch Sizes
Apple's iPhone 6 is expected to launch "as early as September", according to a new report from Japanese business newspaper Nikkei. The paper claims that the device is "expected" to be called the iPhone 6 and is "likely" to be offered in 4.7-inch and 5.5-inch display sizes, in line with circulating rumors.
Manufacturers have apparently begun making such components as fingerprint sensors and chips for liquid-crystal drivers.

Mass production of LCD panels will start as early as the April-June quarter at Sharp's Kameyama factory, Japan Display's Mobara plant, and at other facilities, according to sources. LG Electronics will supply panels as well. The new handset's display resolution is expected to be significantly higher than that of current models.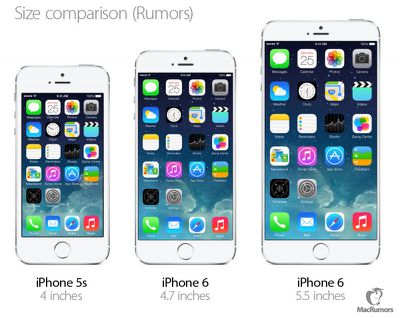 Earlier this week, UBS analyst Steve Milunovich claimed that the 4.7-inch version might be the only model to launch later this year, with a timeframe for the larger 5.5-inch version unclear.