Apple Reportedly Negotiating with Carriers for $100 Price Increase on iPhone 6
Apple is negotiating with wireless carriers to raise the price of the iPhone 6 by $100, claims Jefferies analyst Peter Misek (Via StreetInsider). Carriers initially are refusing to negotiate on the iPhone's $199 base price, but they may not be able to resist as the iPhone 6 is shaping up to be 2014's blockbuster handset.
"The possibility may at first seem far-fetched in light of investor concerns regarding possible carrier subsidy and handset price cuts due to smartphone saturation and lack of differentiation," Misek comments. "But we think this general lack of differentiation could be the reason why Apple may be able to get a price increase. Carriers realize that the iPhone 6 will likely be the only headline-worthy high-end phone launched this year and that they will lose subs if they do not offer it."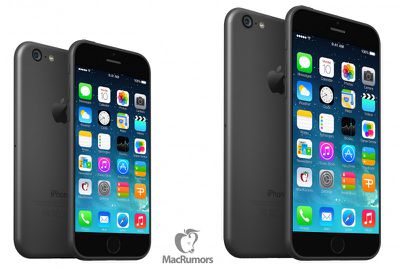 Apple is expected to ship the iPhone 6 later this year, with rumors suggesting the phone will be available with a 4.7-inch touchscreen display at first. A larger 5.5-inch version may follow at the end of this year or early next year.
Along with a larger display, the next-generation iPhone may include a thinner design, Apple's new A8 processor, a Touch ID fingerprint sensor, 1GB of RAM, and an improved camera with optical image stabilization. The iPhone 6 is expected to run iOS 8, which may feature a new Healthbook app, improved Maps and a possible Siri API.