During Apple's earnings call today, Apple shared new details on the state of the iPad, including information on sales expectations, the launch of Microsoft Office for the device, the education market, and the use of the tablet compared to competitors.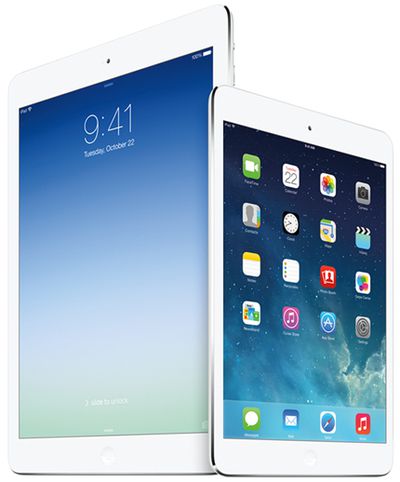 While the company's 16.35 million in iPad sales fell short of analyst expectations, Apple notes that sales came in at the high end of its internal expectations. Company executives cited two main factors: an increase in iPad channel inventory in the March 2013 quarter which artificially increased sales and that was "significantly" reduced this year; it also mentioned that it ended the December 2012 quarter with a substantial backlog of iPad mini orders that didn't shipped until 2013. The company added that it hit iPad supply/demand balance earlier in the launch cycle this year.
Apple also noted that two-thirds of people activating an iPad in the last six months were new to the device, while half of people registering an iPhone had never owned one before. Citing research from App Annie and Chitika, the company stated that the iPad generated four times the mobile web traffic as all Android tablets combined, and that two-thirds of US consumers that planned to purchase a tablet in the next 3 months would be purchasing an iPad.
CEO Tim Cook commented on the recent launch of Microsoft Office for the iPad, stating that the addition of the productivity suite "helps" and that it would have been financially beneficial for Microsoft to release the program "earlier". Overall, Cook noted that customers were "responding well" to Office in a field of many alternatives that were brought to the market, including Apple's own iWork suite for the iPad as well as competitors from other developers.
Cook also noted that Apple has a 95% share in the education market and that the company's focus was on getting more iPads into classrooms. He says the iPad is "the fastest growing product in Apple's history", and that the company is determined to stay focused on the things "we do best" and said that the company focuses on getting the details the right as opposed to simply being the first to launch.
Apple is expected to introduce updated models of the iPad Air and Retina iPad Mini this year, with some rumors suggesting that the company will add a larger "iPad Pro" to its tablet lineup in the near future.