Alleged iPhone 6 Cases Surface, Apparently Based on Recent Design Drawings
A photo reportedly showing cases designed for the larger iPhone 6 has been posted by Mobile Fun (via Nowhereelse.fr [Google Translate]. While exact sizes are not apparent from the photo and no comparison with existing iPhone cases sizes is shown, the cases are said to be for 4.7-inch and 5.7-inch iPhone 6 models, consistent with design drawings published by Japanese magazine MacFan late last month.
Most sources have been reporting that the larger iPhone 6 will carry a 5.5-inch display, although the MacFan drawings and a few other sources have continued to point to a 5.7-inch display.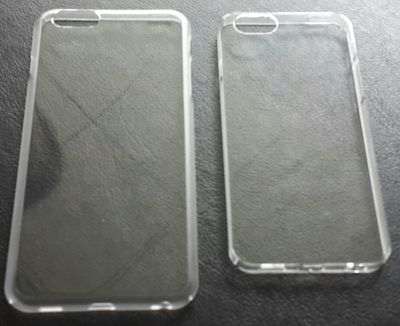 It is not entirely clear whether these cases are based on the same design drawings or come from another source, but they do appear to be very consistent with the drawings. Like the drawings and our renderings based on them, the cases include a hole for a button on the left side of the top edge of the device. This has been presumed to be the power button for the iPhone 6, which would be a change from its current location on the right side of the top edge.

Side (1) and top (2) button cutouts (Annotated by Nowhereelse.fr)
The cases also include a cutout along the right side of the case, a feature that is also shown in the design drawings. The purpose of the cutout is unknown, but it is possible that this could in fact be the power button given that analyst Ming-Chi Kuo
claimed earlier this week
that the power button would move to the side of the device. If this is indeed the case, then the function of the top button on the iPhone 6 drawings becomes unknown.