Emails Show Phil Schiller's Displeasure with Ad Agency's Efforts for Apple in Early 2013
Multiple insider details on Apple and its business practices are surfacing during the company's second patent trial with Samsung, including a series of tense emails between Apple's head of marketing Phil Schiller and Apple's longtime ad agency, TBWA\Media Arts Lab (via BusinessInsider).
Following the January 2013 release of an article from The Wall Street Journal entitled, "Has Apple Lost Its Cool to Samsung?" Schiller emailed Media Arts Lab and told them "We have a lot of work to do to turn this around…."
In the article, The Wall Street Journal lauds Samsung's aggressive marketing campaign for the Galaxy S3, which had the clever tagline "The next big thing is already here." Samsung has argued that the campaign was a tipping point for the company and that it infuriated Apple executives as the advertising was coming at a time when Apple's own advertising was in a slump.
Following Schiller's email about the WSJ article, the ad agency wrote back a lengthy email outlining a plan to put the iPhone back in the spotlight, unfortunately comparing Apple in 2013 to Apple in 1997, when the company was on the brink of going out of business.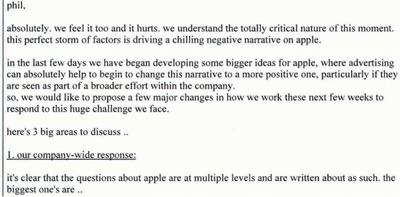 The email went on to suggest that the agency be given more freedom to experiment with ideas and that Apple needs to consider specific questions, such as company behavior, sales approaches, and product roadmaps.



Schiller was "shocked" by the email he received from Media Arts Lab, both at the reference to 1997 and the idea that the team should be given free rein to create ideas that had not been pitched in Marketing and Communication (Marcom) meetings.


The advertising agency quickly penned an apology to Schiller and a few weeks later, another email exchange indicated Apple was happy with the advertisements the company was creating for the iPad, but still dissatisfied with iPhone advertising. Schiller noted that he watched Samsung's pre-Super Bowl ad, saying "I can't help but think 'these guys are feeling it'".


While it's clear there was some serious tension between Apple and its advertising agency in 2013, the two did not end up parting ways. Later in the year, Apple launched its "Music Every Day" and "Photos Every Day" ads, which turned out to be highly successful. Apple followed it up with a heartwarming iPhone 5s commercial, ending out the year on a high note and picking up advertising in 2014 with the current "Your Verse" campaign.