Apple's 'iPad Pro' Plans Reportedly on Hold
Apple has "shelved" its plans to produce a larger-sized tablet, according to a report from Digitimes. Nicknamed the "iPad Pro", the 12.9-inch tablet was rumored to be under development with a launch date possible early next year.
Apple's alleged move comes as these larger tablets face hurdles because the form factors are not compatible with the existing ecosystems, forcing manufacturers to scale back on their plans, claims Digitimes.
However, most of the large-size tablet projects face difficulties because of lack of support from related platform developers and ecosystems. Apple has also been said to shelved its large-size tablet project.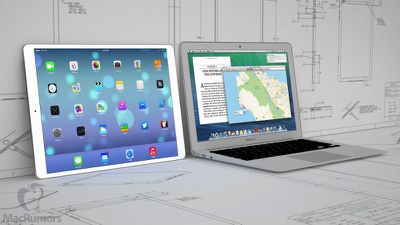 Mockup of a 12.9-inch iPad next to a 13-inch MacBook Air
It is unclear whether Apple having "shelved" the iPad Pro is a permanent move or if the company is simply taking a wait-and-see attitude with the project for the time being.
Rumors of the iPad Pro first surfaced last May with a claimed early 2014 launch timeframe, but while a number of other sources have weighed in with their own claims about the device including word that production on the device's display had already begun, targets for the device's launch have slipped over time. Most recently, KGI Securities analyst Ming-Chi Kuo, who has frequently offered accurate information on Apple's product plans, suggested last month that while the iPad Pro remained under development, its launch would likely not come this year.
As rumors of a larger iPad gained steam throughout the latter half of 2013, Samsung moved to introduce its own product with the launch of a 12.2-inch tablet early this year.
Digitimes has a mixed track record with its reporting, frequently obtaining accurate information from within Apple's supply chain, but on occasion seeming to misinterpret that information.