Apple May Be Working With Quanta Computer on Larger iPad
Apple is continuing development of its rumored larger-sized iPad and working with supplier Quanta Computer, reports Chinese site United Daily News (via Mac Otakara) [Google Translation]. The report from United Daily News refers to the larger tablet as a 12-inch device, but rumors from The Wall Street Journal suggest that Apple is actually testing an iPad that is closer to 13-inches diagonally.
News of a larger-sized iPad first surfaced in May, and was later confirmed in July. Such a tablet could be similar in size to Apple's 13-inch MacBook Air, as seen in renderings commissioned by MacRumors.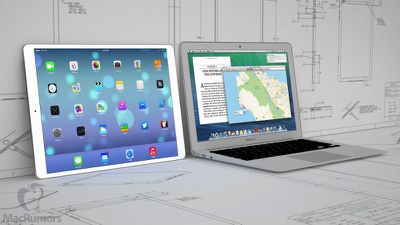 Click to see a larger version of the image.
Quanta Computer is an Apple supplier responsible for Apple's current MacBook Airs and an unusual choice for tablet production as those devices are currently produced by suppliers like Foxconn and Pegatron. The report claims, however, that Quanta is aiming to diversify.
Apple is expected to release a new fifth-generation iPad and a second-generation iPad at an event that could take place in the October-November timeframe. The fifth-generation iPad is expected to take on an iPad mini-style design while the iPad mini will likely gain a Retina display.
Though an original report on the larger iPad suggested that it could launch early next year, there is no indication that such a timeframe is correct and it remains unclear if the device will make it to market at all.