OS X Mavericks 10.9.3 Beta Contains Native 'Retina' Resolution Option for 4K Displays
Just released earlier tonight, Apple's OS X Mavericks 10.9.3 beta appears to have built-in support that enables all compatible 4K displays to be set at a "Retina" resolution, with an option for 60Hz output. The compatibility was first discovered by Twitter user @KhaosT, and was tested with both the Late 2013 Retina MacBook Pro and redesigned Mac Pro in conjunction with Dell's UltraSharp 24 Ultra HD Monitor.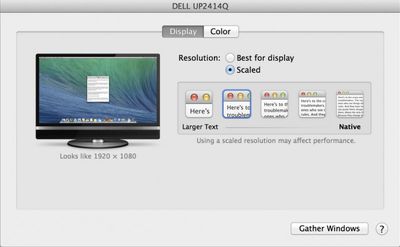 To this point, OS X compatibility with 4K displays has been known to be somewhat erratic, as AnandTech revealed in December that Sharp's 32'' 4K display supported only one scaled resolution at 2560 x 1440. Furthermore, it was discovered that Apple had chosen to render text, menu and UI elements in the same manner as the Retina MacBook Pro, resulting in small and difficult to read on-screen elements on a 4K display. Various other 4K monitors were also found to be not properly supported.
Native support for 4K displays could also indicate that Apple is gearing up to release a higher-resolution Thunderbolt Display, as Apple last refreshed the monitor over two years ago. A number of other companies also introduced more affordable 4K displays at CES 2014 in January, with options from the likes of Lenovo, Asus, Seiki, and LG expected to hit the market throughout this year.