OS X Mavericks 10.9.3 Beta Contains Native 'Retina' Resolution Option for 4K Displays
Just released
earlier tonight
, Apple's OS X Mavericks 10.9.3 beta appears to have built-in support that enables all compatible 4K displays to be set at a "Retina" resolution, with an option for 60Hz output. The compatibility was first discovered by Twitter user
@KhaosT
, and was tested with both the Late 2013 Retina MacBook Pro and redesigned Mac Pro in conjunction with
Dell's UltraSharp 24 Ultra HD Monitor
.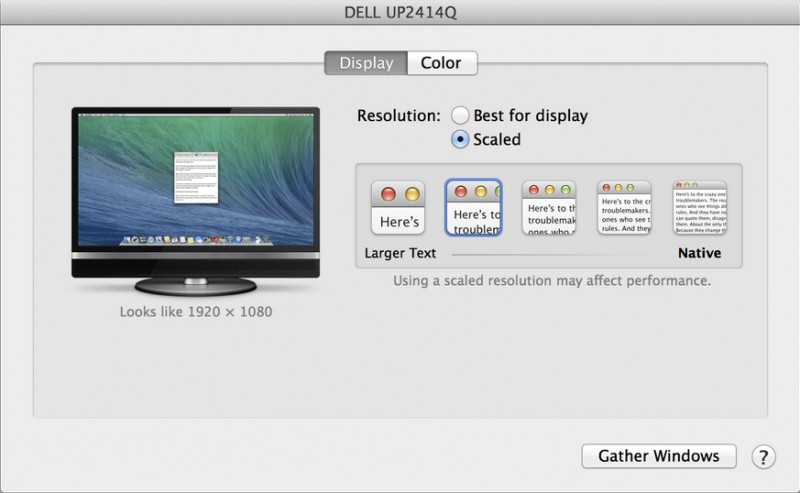 To this point, OS X compatibility with 4K displays has been known to be
somewhat erratic
, as
AnandTech
revealed in December that
Sharp's 32'' 4K display
supported only one scaled resolution at 2560 x 1440. Furthermore, it was discovered that Apple had chosen to render text, menu and UI elements in the same manner as the Retina MacBook Pro, resulting in small and difficult to read on-screen elements on a 4K display. Various other 4K monitors were also found to be not properly supported.
Native support for 4K displays could also indicate that Apple is gearing up to release a higher-resolution
Thunderbolt Display
, as Apple last
refreshed
the monitor over two years ago. A number of other companies also
introduced
more affordable 4K displays at CES 2014 in January, with options from the likes of
Lenovo
,
Asus
,
Seiki
, and
LG
expected to hit the market throughout this year.