Mac Pro/OS X 4K Display Compatibility 'Like the Wild West', Some 4K Monitors Unsupported
In its lengthy review of the new Mac Pro, AnandTech discovered that the Mac Pro's current support for 4K monitors leaves something to be desired. The reviewer connected the Sharp 32" 4K display that Apple currently offers on the Apple Online Store, expecting that OS X work the same way on that panel as Apple's current Retina MacBook Pro models do.
On those machines, Apple renders the screen at full resolution but then renders text, menu and UI elements at 4x their normal resolution so they are the appropriate physical size for the user. It also offers multiple options to scale UI elements up or down as the user prefers. Instead, using the Sharp panel with the Mac Pro makes text and other on-screen elements -- aside from photos and video -- very small and difficult to read.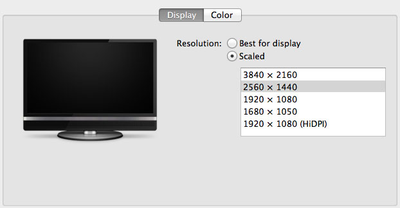 I was fully expecting all of this to be available on the Mac Pro when connected to a 32" 4K display. By default, there's only a single supported scaled resolution: 2560 x 1440. Unfortunately it doesn't look like Apple is running the same supersampling routines when you pick this resolution, instead you get a 2560 x 1440 desktop scaled up to 3840 x 2160 (rather than a 5120 x 2880 screen scaled down). The result is a bit of a blurry mess.

You can use tools like SwitchResX (or Quartz Debug or the necessary Terminal command) to enable a 1080p HiDPI mode, but then you end up with insanely low point density of around 68 PPI. Unfortunately it doesn't appear to be possible to define your own HiDPI modes in OS X, you have to rely on those that Apple officially supports. I tried creating a 5120 x 2880 (2560 x 1440 HiDPI) mode but I couldn't get it working under Mavericks. I'm not sure if I was limited by the OS or if Sharp's EDID-specified max resolution of 3840 x 2160 prevented OS X from accepting what I was trying to do.
AnandTech also tried the new Dell UltraSharp 24 Ultra HD display but found that the display is not properly supported by the Mac Pro.
The reviewer calls OS X's 4K display support "a bit like the wild west at this point", though he anticipates Apple will fix things with both software updates and its own displays in the future -- but urges early adopters to be aware of what they're getting into.
I am disappointed that Apple didn't enable any HiDPI modes on the 32" Sharp display. While I found 3840 x 2160 a great resolution for video work, for everything else it made on-screen menus and text a bit too small. I would love to see a 2560 x 1440 HiDPI option (rendering offscreen at 5120 x 2880 and but scaling down to 3840 x 2160 for display) but it looks like I may have to wait for Apple's own display before I get something like that.
It's been two years since Apple has updated its standalone display lineup, and the company is expected to come out with new models sooner rather than later. However, there are no concrete rumors suggesting when such an update might happen.