Catch: How Apple Could Integrate Note-Taking Capabilities into Reminders, Siri, Maps, and More
Before shutting its doors in August of 2013 following an acquisition by Apple that was revealed this morning, Catch operated a web-based note taking service and iOS and Android apps known as Catch Notes. Ahead of the company's acquisition, Catch Notes was well-known as a high-quality productivity app and had been featured by Apple as a new and noteworthy app when it was first released in 2010 and as part of the Apple's "Why You'll Love an iPhone" advertising campaign.
Designed for note taking, Catch Notes allowed users to capture and share ideas, writing notes in text, saving images, and recording voice notes. It functioned similarly to Evernote, organizing notes into different categories that could be easily shared with others. Deep organization was one of the key features of Catch Notes, which organized notes into "Spaces" or folders that included tags for labeling. Spaces could be manipulated with simple touch gestures, giving Catch Notes an easy-to-use interface. The app also organized notes into "Streams,"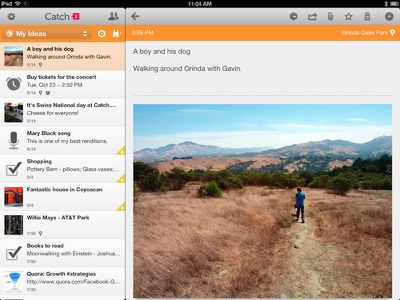 In addition to bundling a variety of note formats into a single note-taking app, Catch Notes also included task-oriented functionality like checklists and reminders, along with a lot of collaborative features. With Catch Notes, for instance, users could create a task list or note that was shared and synced between multiple people. Collaborative content was organized into "Streams," which aggregated a collection of notes that could be used to allow multiple users to contribute to and build upon a single idea, even functioning as an ongoing conversation.
Shortly before Catch shut down its services, the company also launched Catch Team, designed to make team collaboration both easier and more secure through the implementation of "team leader" functionality allowing an admin to manage individual users.
It is impossible to predict how Catch and its Evernote-style note-taking capabilities might be incorporated into Apple's OS X and iOS operating systems, but there are multiple possible use cases for the technology, across Notes, Reminders, Siri, and Maps.
Notes and Reminders
Catch's base functionality, which included note taking that incorporated both images and audio clips, is an easy to imagine expansion for Apple's own Notes and Reminders apps. Currently, Notes and Reminders are limited to text functionality, though voice dictation can be used to transcribe text. With design elements taken from Catch Notes, notes, reminders, and checklists could be created from and include both audio clips and photos or other images directly within a note or reminder.
Catch Notes used a tag-based system for organizing notes, much like Finder in OS X. While Reminders incorporates colored tags as well, a more unified tagging system across Reminders and Notes apps for both iOS and OS X could make Apple's productivity apps far more functional by facilitating quicker searches for relevant content.
The collaborative features within Catch Notes could also be useful within the Reminders and Notes apps, allowing users to easily share content over iCloud. With collaboration, deeper functionality, and better organization for the Notes app, Apple's built-in productivity software could edge closer to competing with more robust solutions like Evernote, which was formerly one of Catch's competitors.
Catch also had an innovative click-wheel style menu system that was simple to use for the creation of new content, along with visual notifications, and it is possible that some of these design elements could make it into Apple's apps in the future.


Siri and iCloud
An expanded Evernote-like note and reminder functionality bundled into Apple's own Notes and Reminders apps could also be extended to Siri, allowing the service to potentially capture voice-based notes to be remembered later.
Catch's robust syncing capabilities, which allowed content to be synced to multiple iOS devices and multiple user accounts, is also technology that Apple could look into incorporating into future versions of iOS and iCloud.
Maps
Along with its Catch Note app, Catch also operated an Android App called Compass, which was a location-based app that allowed users to make location-based notes about individual places, similar to how Foursquare allows users to leave tips on each location within the app.
New to Compass? Compass is our location-based app that allows you to always know where North is, save your favorite locations, navigate back to them (with Google Maps), and take notes about a location.
It is possible that Apple could use this location-based note-taking technology in order to expand its mapping capabilities, as it has worked hard in recent months to beef up its Maps app through the acquisition of several Mapping apps including Embark, Locationary, and HopStop. Aggregating location-based notes could be a way for Apple to introduce location discovery and additional points of interest to Maps.
Catch was shut down in August of 2013 and according to recent reports, was acquired by Apple during the same month. It remains unknown when or how Apple will incorporate the purchase into its own products, but at this time, several former Catch employees are now working at Apple on iOS-related software.