Apple Launches New 'Why You'll Love an iPhone' Web Campaign
Apple today rolled out a new advertising theme for the iPhone on its website, highlighting a number of reasons why people love their iPhones. The campaign comes with all-new graphics, a new "Why iPhone" page, and an email promotion.
There's iPhone.
Then there's everything else.

What makes an iPhone unlike anything else? Maybe it's that it lets you do so many things. Or that it lets you do so many things so easily. Those are two reasons iPhone owners say they love their iPhone. But there are many others as well.
The "Why iPhone" page shares a number of features and highlights of the iPhone, including its eight consecutive J.D. Power customer satisfaction awards, the attention to detail in the iPhone's design, the Retina display, battery life, powerful and efficient A6 chip, and more.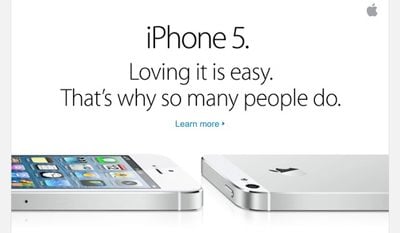 Apple's new campaign comes just two days after Samsung introduced its upcoming Galaxy S 4 phone, the next flagship model for the leading Android handset manufacturer. Samsung has stepped up its advertising over the past year, and former Apple ad man Ken Segall is just of many who have argued that Apple needs to counter Samsung's effort with more inspired advertising of its own.
Samsung has been scoring points for its "people-based" ads while Apple has been focusing on the experience of using its products, but Apple's new campaign appears to be trying to bridge that divide somewhat by focusing on how the iPhone experience has drawn so many loyal and happy customers.