Apple Retail Stores to Integrate iBeacon Systems to Assist with Sales and Services
Earlier this year at the keynote during its annual Worldwide Developers Conference, Apple mentioned iBeacon microlocation APIs as a new part of its SDK, which are designed to access location data through the Bluetooth Low Energy profile on iOS devices. Now, the company is preparing to integrate iBeacon systems into its retail locations, which will intially help with customer sales and later be implemented to assist with in-store services such as workshops and Genius Bar appointments, reports 9To5Mac.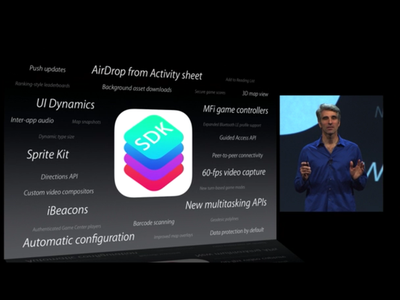 According to the report, the integration of iBeacons within Apple's stores will be used in cohesion with a future update to the Apple Store app, which can give detailed information on a product when a user walks near an item. While Apple currently utilizes interactive iPad displays for many of its first-party products in-store, the updated Apple Store app would help users get information about the many products on shelves.
Apple is said to have begun stocking up on iBeacon transmitters, and the company, in the next few days, will begin installing these sensors in many Apple Stores across the United States. These transmitters will be placed on the tables that house Apple products in addition to store shelves holding accessories. The technology will serve as a way to both improve the Apple shopping experience, and in-turn, boost product sales.
Furthermore, Apple is also testing its new iBeacon-based retail system to better provide services in its stores, such as notifying consumers about upcoming workshops, locating customers for Genius bar appointments, and allowing consumers to be informed of a repaired product ready for pickup. This deeper integration of services will reportedly be implemented after the initial roll out of the updated Apple Store app and iBeacons, and would allow for greater accuracy in locating customers within stores compared to the capabilities of the current app.
The company is also looking to integrate an indoor mapping feature in a future version of Maps for iOS, which would help users navigate through buildings and stores, and could also be used with iBeacon technology to provide greater information within an area. A report in September stated that Apple was working on tapping into the power of the M7 motion coprocessor to add additional mapping enhancements in future software updates, and it is possible that indoor mapping and iBeacon technology could work in cohesion with the motion-sensing chip for greater mapping information overall.
Earlier this year, Apple was said to be collaborating with Major League Baseball to utilize iBeacon APIs to enhance its MLB.com At the Ballpark app to create interactive experiences for its fans at stadiums. 9To5Mac also notes that Apple is also rumored to be testing a program allowing iOS developers to easily integrate the iBeacon API into third-party apps. While iBeacons can be currently implemented into existing apps by iOS developers, Apple has yet to provide a straightforward development program for the API.