Apple Working to Leverage New 'M7' Motion-Sensing Chip for Mapping Improvements
Alongside the new A7 main chip unveiled in the iPhone 5s this week, Apple also featured a new "M7" motion coprocessor designed to capture motion data to support new features such as health and fitness applications. As Apple notes on its feature page, the chip can also enhance mapping and location functions, helping the iPhone 5s sense and interpret movement.
The new M7 coprocessor is like a sidekick to the A7 chip. It's designed specifically to measure motion data from the accelerometer, gyroscope, and compass — a task that would normally fall to the A7 chip. But M7 is much more efficient at it. Now fitness apps that track physical activity can access that data from the M7 coprocessor without constantly engaging the A7 chip. So they require less battery power.

M7 knows when you're walking, running, or even driving. For example, Maps switches from driving to walking turn-by-turn navigation if, say, you park and continue on foot. Since M7 can tell when you're in a moving vehicle, iPhone 5s won't ask you to join Wi-Fi networks you pass by. And if your phone hasn't moved for a while, like when you're asleep, M7 reduces network pinging to spare your battery.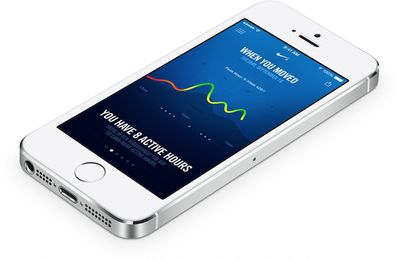 But beyond those mapping and navigation features, Apple is also working on tapping into the power of the M7 to add additional enhancements in future software updates, according to a report from 9to5Mac. Those improvements include the ability to help find a parked car as well as new features for public transit navigation and indoor mapping.
Sources say that Apple is testing a tool for its Maps app that, with the M7 chip, could analyze when your car is parked. When you park your car, the iPhone will register the car's location. Now when you return to the parking lot, your iPhone will be able to help you assist with finding your car since it knows the vehicle's location.

Besides the car-finding feature, Apple is also working on other mapping features. Apple is said to be planning notable updates to its Maps app in iOS 8, and the company is currently working on implementing both public transit directions and indoor mapping features (which Google already has on iOS).
These potential additions should be no surprise of course, as Apple has revealed its interest in such features through recent acquisitions of several smaller companies. In particular, Apple has acquired public transit app firms HopStop and Embark and indoor mapping firm WifiSLAM within just the past six months.
The iPhone 5s with Apple's new M7 chip launches on Friday, September 20.