Apple Revamps Retail Stores with Interactive iPad Displays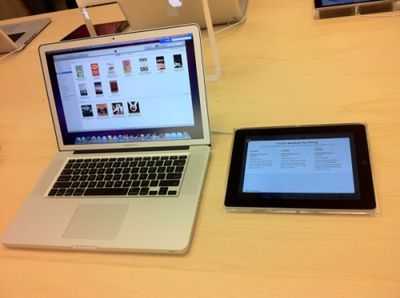 Photo by
@Leoleakey
The much hyped
retail meeting
took place overnight in several parts of the world. Apple seems to have deployed major updates to their Retail stores including the use of iPads as interactive kiosks for customers.
MacPricesAustralia
posted some early details (via
9to5mac
):
- iPads display product prices & information for products.
- iPads display product features, prices and lets you compare between models.
- Use the iPad to ask a specialist to come to you.
- Apple store staff appear to be wearing party hats.

Photo by
@Digisz
MacStories offers some additional shots of the iPod display:

And iPads selling iPads:

Some observations: the interactive iPads aren't powered through the Dock connector. The cabling disappears behind the iPads. The home buttons don't do anything.