Analyst Predicts Multiple iPhone Refreshes Per Year, New Services After Meeting with Apple Execs
Apple's bifurcation of its iPhone lineup will provide the company with the opportunity to offer new iPhone products multiple times per year in the future, according to Morgan Stanley analyst Katy Huberty. Along with pricing flexibility, the ability to offer new products at more frequent intervals will drive unit growth upwards in 2014.
Apple recently introduced both the high-end iPhone 5s and the mid-range iPhone 5c, priced slightly lower, selling both alongside the lower-end iPhone 4s. It is unclear how Apple plans to continue to upgrade these lines in the future, but according to Huberty, Apple will be able to utilize its dual product lineup for "multiple refreshes per year."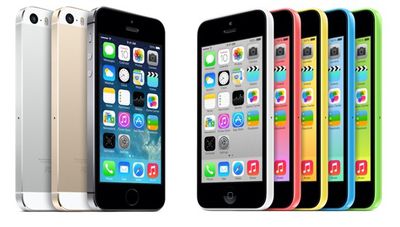 Huberty, who recently met with Apple CEO Tim Cook and CFO Peter Oppenheimer to gain some insight on Apple's future plans, also indicates that there's a lot of growth potential in Apple's services category. She suggests that Apple could, for example, expand the usage of Touch ID in the future, setting the stage for new services revenue streams
Services a meaningful opportunity. As we highlighted in our June 4, 2013 note, iOS usage stats far exceeds Android. Combining 575M+ high-end consumer accounts (most linked to credit cards or ACH) with investments Apple is making in cutting edge hardware, like the fingerprint sensor, and upgrading its installed base to the latest versions of iOS and OS X sets up for new services revenue streams, in our view.
Apple recently made some drastic moves towards improving its software and service offerings, providing OS X Mavericks for free to all users, along with a number of other free software upgrades for its iLife and iWork suite of apps. Apple has also been aiming to enter new service markets, introducing iTunes Radio earlier this year and working on completing deals with cable companies like Time Warner with the potential goal of debuting new television services.
During Apple's fourth quarter earnings call, CEO Tim Cook indicated Apple would introduce new product categories in 2014, suggesting the company would use its skills to build software, hardware, and services to create "great products" in categories that Apple does not currently participate in.