After announcing a refresh to its line of iMacs earlier this week, Apple has quietly increased the prices of all Mac mini configurations in multiple countries, including Australia, Brazil, and Malaysia, reports 9to5Mac. In Australia, the prices of the standard Intel Core i5 2.5GHz, Intel Core i7 2.3GHz, and Mac mini with OS X Server models are now A$749, $A999, and A$1249 respectively, up from their previous prices of A$699, A$899, and A$1099.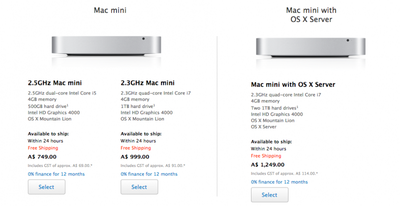 Apple has tweaked pricing on some accessories as well in other countries. For example, UK customers have seen price increases on the Apple Wireless Keyboard (£2), Mini DisplayPort to VGA Adapter (£4), and Cinema Display VESA Mount Adapter Kit (£4). More significant prices increases have come on replacement MacBook and MacBook Pro batteries (£8), and the Mini DisplayPort to Dual-Link DVI Adapter (£15).
Earlier this year, the Mac Mini's shipping estimates increased to 5-7 days on the Apple Online Store, leading to hope for a potential refresh, but they returned to normal a few days later without an update. Notably, the Mac Mini is still using Intel's last-generation Ivy Bridge processors, with the 2013 MacBook Air and recent iMac refresh using Intel's new Haswell processors, which contain features such as lower power usage, better performance, and increased battery life for laptops.
If Apple is to refresh the Mac Mini this year, it would potentially be a part of a number of updates to various products in its line, including a new line of iPads, a new Apple TV, and a new MacBook Pro with Intel's Haswell processors, as well as the company's dramatically redesigned Mac Pro. All products are expected to be refreshed in the following months before the end of the year.
Update: Contrary to the original report, Mac mini prices have not increased in Portugal.