Report Suggests Haswell MacBook Pros May Arrive in October
A report from the China Times (cited on the Japanese website Mac Otakara) predicts an October launch for an updated MacBook Pro model featuring Intel's new Haswell processors, which are already present in the new MacBook Airs, released last month at Apple's annual WWDC event. The report cites sources in Apple's lengthy supply chain and suggests that the new models will remain the same price as the previous ones.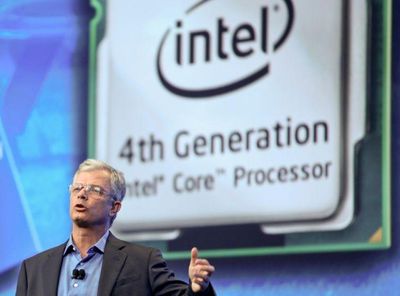 The new range of Haswell processors (image above courtesy of ITPro UK) offer a slight boost in processor speed, but their major draw is a lower rate of power consumption compared to previous models. The MacBook Air now boasts an "all-day battery life" of up to 12 hours for the 13-inch model and up to 9 hours for the 11-inch model. The chips also offer support for the latest 4K displays, which offer a resolution 4 times that of standard HD displays. Currently, no Apple products feature the resolution.
KGI Securities analyst Ming-Chi Kuo, who has a good track record when it comes to Apple rumors, originally predicted new MacBook Pros with Haswell processors at WWDC back in June, alongside a slimmer MacBook Pro with Retina display, though he later updated his prediction to suggest a mid-September release date for refreshed MacBook Pros.
There is some evidence that suggests Apple vendors may be trying to run down existing MacBook Pro stock. Both Best Buy and Amazon are currently offering significant back-to-school discounts on the MacBook Pro, offering the 13-inch base model (with 4 GB of memory and a 500 GB hard drive) for $999, compared to $1,199 in the Apple Store. Best Buy has dropped the price even further for students, with an additional $100 off.
The sales do not appear to be confined to the United States as Amazon UK is currently selling the same entry level 13-inch MacBook Pro for £904.95 ($1,395), instead of £999 ($1,539) in the Apple Store.
Yesterday, Mac Mini shipping times slipped to 5 to 7 days in the official Apple Store, suggesting that Apple may also be gearing up to introduce additional new products in the near future.