Last week, Mac mini shipping times slipped to 5–7 days, but it appears that Apple's inventory has normalized over the weekend as shipping times (via 9to5Mac) for the standard Mac mini have returned to 24 hours in both the United States and Canada.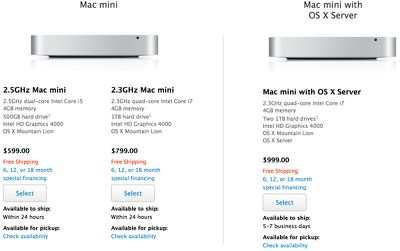 Mac mini shipping times for many other countries around the world remain at 5 to 7 days, as do shipping times for the Mac mini Server, so it is unclear whether or not there is a simple product shortage or if the continued 5 to 7 day worldwide shipping time is indicative of a possible refresh.
The Mac mini, which was last updated in October of 2012, is a potential candidate for an upgrade to Haswell processors. Several other computers in Apple's lineup are expected to be refreshed with Haswell processors as well, possibly during August or September.