Mac Mini Shipping Times Slip to 5-7 Days on Apple Online Stores, Possible Refresh Ahead?
Ahead of a "very busy fall" for Apple, Mac mini ship times on many Apple Online Stores have slipped to 5-7 business days.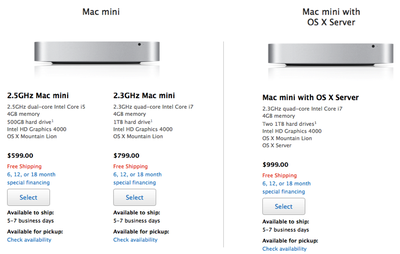 All other Macs on the online store have shipping estimates of "within 24 hours". That said, most Apple Retail Stores do show availability for the mini, as does Amazon.com.
Apple sometimes does have temporary product shortages of computers mid-cycle, but they can also portend intentional drawdowns of stock ahead of a product refresh. The Mac mini is a candidate for an upgrade to Haswell processors, and it is coming due for a possible update according to the MacRumors Buyer's Guide.