Apple TV 6.0 Software Update Released with iTunes Radio and AirPlay from iCloud Functionality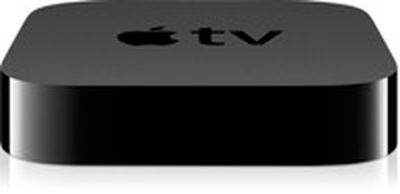 Following the release of iOS 7 and the debut of its new iPhones, Apple has today pushed a new software update to its Apple TV set-top box following months of testing.
As expected, the update offers a number of new features for Apple TV users, including support for Apple's newly released iTunes Radio music service, iCloud Photos and Videos, iTunes Music Store purchases on the device, Podcasts, and AirPlay from iCloud.
With AirPlay from iCloud, iTunes users can play content purchased from the iTunes store on any Apple TV, streaming it via iCloud.
- iTunes Radio: Create your own radio stations and listen to them ad-free with iTunes Match.

- iTunes Music Store: Browse, purchase, and play music directly from the iTunes Music Store.

- iCloud Photos: Adds support for playing video from a shared photo stream and viewing photo streams from multiple contributors.

- AirPlay from iCloud: Apple TV will play content from iTunes in the Cloud instead of your AirPlay device when possible. Requires iOS 7 on AirPlay device.

- Podcasts: Sync your podcasts and podcast stations across Apple TV and all your iOS devices.

- Subtitles & Captioning: Automatic subtitle selection based on Apple TV language setting. Customize closed caption style.

- Conference Room Display: Lock Apple TV into Conference Room Display (for business and education environments) and show onscreen instructions for using AirPlay.

- Software Update: Keep your Apple TV always up to date by automatically installing software updates when available.

- Setup: Use an iPhone, iPad, or iPod touch with iOS 7 to automatically transfer network settings, your Apple ID, and language preferences. Not available on iPhone 4 and iPad 2.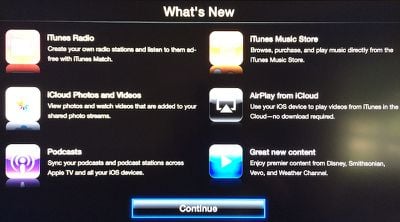 Apple has been working hard to bolster its Apple TV content offerings in recent months and has added additional apps for Vevo, The Weather Channel, the Disney Channel, the Smithsonian Channel, and more. The company is also rumored to be working on an updated version of its Apple TV hardware, which could debut later this year.