Vodafone Germany to Discontinue 32/64GB iPhone 5, 16GB iPhone 4S
Vodafone Germany has plans to discontinue several models of existing iPhones with the release of the iPhone 5S and the iPhone 5C, reports German site Flo's Weblog [Google Translation]. According to an internal email, the 32 and 64GB iPhone 5 in both black and white will be discontinued, along with the black/white 16GB iPhone 4S.
This confirms an inventory leak from Canadian carrier Telus, which also suggested that Apple would discontinue the higher end iPhone 5 models. Both carrier leaks indicate that Apple's upcoming product lineup will consist of the flagship iPhone 5S, the low-cost iPhone "5C", and the 16GB iPhone 5.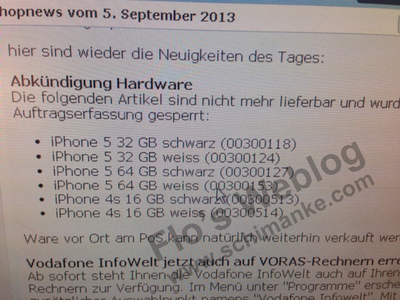 Apple's iPhone lineup has been in question over the past several months, and it has been unclear whether the iPhone 5C will serve as a replacement for the iPhone 5 or the iPhone 4S. The cost of the iPhone 5C remains unknown, and speculation has suggested that the phone, which is said to use many of the same parts as the existing iPhone 5, may not be truly low-cost, necessitating the inclusion of the lower-priced iPhone 4S in the product line.
An August note from KGI Securities analyst Ming-Chi Kuo indicated that Apple would discontinue the iPhone 5 in favor of the iPhone 5C while continuing to sell the iPhone 4S through the end of of the year, but the information from Vodafone Germany contradicts this theory.
It is unclear where the iPhone 5 will fit into Apple's iPhone line in terms of price. Estimates have suggested that the iPhone 5C will retail for $400 to $500 off-contract, and it is likely that the iPhone 5 would have a similar price tag. The iPhone 4S, though, could be priced below the iPhone 5C if it remains in Apple's product lineup.
Apple plans to unveil the iPhone 5S and 5C during a September 10 iPhone event. The phones are expected to ship to a number of countries shortly after, on September 20.