Apple in Negotiations With Content Providers for Internet-Based Subscription Television Service
Apple is involved in high-level negotiations with television content providers, including ESPN, HBO, and Viacom, to provide programming through 'apps' instead of channels, reports Quartz -- a relatively new business publication with a number of former Wall Street Journal reporters on staff.

It's unclear how close these deals are to fruition. Some people cautioned that, with the TV industry in such flux, "everybody is talking with everybody." Any deal with an internet TV service like the one envisioned by Apple is likely to be under similar terms as the networks have negotiated with traditional cable companies.

Sources say Apple's strategy could include forming its own pay TV service, essentially becoming a cable company itself, except with content delivered entirely over the internet. Intel, Sony, and Google are known to be pursuing similar tactics, and could launch their own pay TV services before Apple.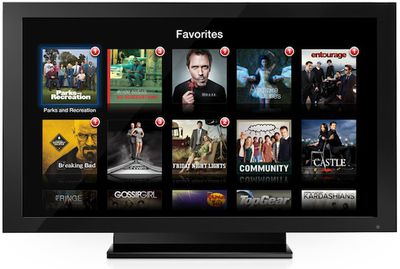 Quartz claims that Apple does want to release a much-rumored television set -- not just a set-top box like the current Apple TV 'hobby' -- to "usurp the role of the cable box" and "control the entire experience of watching TV".
The site also says cable companies have been seeking to prevent providers from signing deals with Apple, but Apple believes it does not need all content providers on board before releasing a TV set -- instead, it needs standout programming to distinguish the product and pioneer the concept of Internet-delivered video programming. The Apple TV boasted only a few content providers when it launched, but has since added a number of new content providers including ESPN, HBO, and Hulu.
A deal to offer standalone ESPN or HBO packages -- or perhaps NFL Sunday Ticket -- could "represent a tipping point" after which Apple would feel comfortable bringing the product to market. ESPN in particular has been open to the idea of streaming its live channels online as part of a standalone subscription service, something that some vocal consumers have been clamoring for -- though it's unclear how many cord-cutters would actually pay for such a service.
Previous reports have said that Apple wishes to 'erase the distinction' between live and on-demand television programming by allowing viewers to begin streaming a show minutes after it began airing live. Last month it was said that Apple was negotiating directly with cable companies and TV networks to allow customers to skip commercials, with Apple compensating for the lost ad revenue.
In his biography, Steve Jobs said he had "cracked" the redesign of television to make it seamless and easy to use, and some analysts have been claiming for years that Apple is working on a television set.
With multiple reports of Apple negotiating with both content providers like Sky News and ESPN and cable companies like Time Warner, the company appears to be examining multiple possible strategies for reinventing television.