Steve Jobs on an Apple Television Set: 'I Finally Cracked It'
Rumors of an Apple television set have been circulating for years, but the company has repeatedly expressed doubts about the feasibility of entering the market. Steve Jobs himself noted that the current environment of "balkanized" cable operators controlling everything through their own set-top boxes makes it difficult to envision a go-to-market strategy for Apple.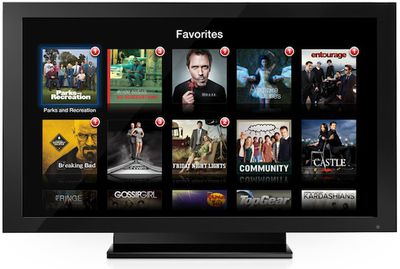 But Walter Isaacson's forthcoming biography of Jobs suggests that Apple may have developed a solution to those ideas, stoking optimism for an Apple-branded television set. Jobs' comments were revealed in an excerpt published by The Washington Post.
"He very much wanted to do for television sets what he had done for computers, music players, and phones: make them simple and elegant," Isaacson wrote.

Isaacson continued: "'I'd like to create an integrated television set that is completely easy to use,' he told me. 'It would be seamlessly synced with all of your devices and with iCloud.' No longer would users have to fiddle with complex remotes for DVD players and cable channels. 'It will have the simplest user interface you could imagine. I finally cracked it.'"
The report notes that it is not clear what Jobs meant by having "cracked" the television problem, but it seems to focus on leveraging Apple's new iCloud service and potentially existing iTunes Store content, all within an easy-to-use television set.