Apple Ramps Up Hiring in China with Over 250 Open Positions
The Wall Street Journal reports that Apple appears to be ramping up its hiring in China, with over 250 currently open positions posted on the company's website. Alongside the usual positions of retail specialists and store leaders (there are currently 8 Apple Stores in China in the major cities of Beijing, Shanghai, Chengdu and Shenzhen), Apple is hiring for a number of technical and administrative positions including an "environmental affairs program manager" and a "security specialist".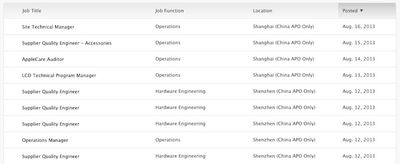 Earlier this month, it was reported that two Apple suppliers and manufacturers, UniMicron and Foxconn, were accused of dumping large quantities of heavy toxic metals into nearby rivers. There have also been frequent accusations of labor law violations, with Pegatron (the company widely rumored to be the manufacturer of the upcoming iPhone 5C) being the most recent in the limelight. It therefore comes at no surprise that at least some of the positions Apple is hiring for are intended to help address these issues and comply with local regulations.
The environmental affairs program manager will be based in China's capital Beijing, the center of political power. According to the job description, the candidate has to "ensure that Apple's products and processes meet and surpass regional and national environmental regulatory requirements."
The hiring push in China also comes just as Apple has begun hiring in Taiwan for what has been reported to be a new research and development center focused on iPhone projects.
The Chinese market has been an especially difficult one for Apple, even as it has seen tremendous growth there over the past several years. The company has been in talks with China Mobile, the country's largest carrier, for several years and yesterday it was reported that the two sides have nearly reached an agreement for China Mobile to offer the iPhone. In a conference call last month, Apple's CEO Tim Cook said, "I continue to believe that in the arc of time here, China is a huge opportunity for Apple".
Although nearly all of Apple's products are manufactured in China and the country is now responsible for around 15% of Apple's total revenue, the company still holds a relatively low share of the smartphone market, and recent slowing of momentum saw Apple post a 14% decline in revenue year-on-year to $4.6 billion. In the second quarter of 2013, Apple ranked seventh in the Chinese smartphone market, falling to just 5% from 9% a year earlier.