Foxconn Profit Rises 41% on Strong iPhone Sales, Low-Cost iPhone to Drive Similar Gains at Pegatron
Hon Hai Precision Industry Co., Apple's primary iPhone and iPad assembler, has experienced a 41% jump in second quarter net profit thanks to strong iPhone sales, reports The Wall Street Journal.
The company, better known as Foxconn, saw a net profit of NT$16.98 billion, which is approximately US$566.7 million. During the second quarter of 2012, Foxconn's net profit was just NT$12.06 billion. Foxconn reportedly earns more than 40% of its revenue from Apple.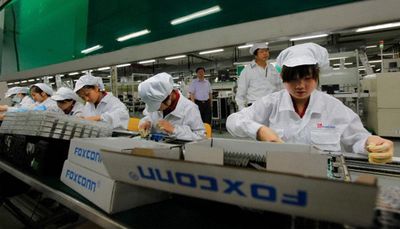 Foxconn's high profit numbers mirror Apple's own record breaking Q2 iPhone sales of 31.2 million units, first announced during the company's third quarter earnings call. Foxconn could see even greater profits in the coming quarters as Apple gears up to release its next generation iPhone, along with additional products like the fifth generation iPad and the Retina iPad mini in the fall months.
Apple is also expected to unveil a new iPhone this fall, which would help pad Hon Hai's earnings in the second half of the year, typically a strong selling season for technology companies due to the back-to-school and holiday shopping seasons.
The products Apple has in the works will also have a huge impact on Pegatron, the company assembling Apple's low-cost "iPhone 5C". According to analyst estimates, the new phone could contribute as much as 40% to Pegatron's third quarter revenue. At a recent investor conference, Pegatron estimated that its sales would grow 40%–50% in Q3 2013.
Both Pegatron and Foxconn have been reported to be hiring a number of new employees as production ramps up on the upcoming devices.
Apple's next generation iPhone 5S is expected to be released during a September 10 event, but it remains unclear if the event will also include the iPhone 5C. Apple is also expected to hold a second event in the last three months of the year to debut new iPads.