Photo Depicting iPhone 5S Camera Module Hints at Separate Dual-LED Flash Component
A clear photo comparing the iPhone 5 camera module to what may be the camera module for the iPhone 5S surfaced today, showing a distinct design change that may hint at a separate flash component in Apple's next iPhone.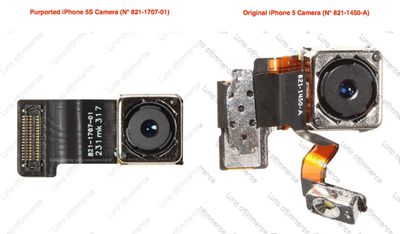 Shared by Nowhereelse.fr [Google translation], the photo of the alleged iPhone 5S camera part does not include a flash component attached via ribbon as the iPhone 5 does, which may be because the iPhone 5S is expected to come equipped with a more powerful dual-LED flash.
The camera module in the photo appears to be the same as one that was published last week and tied to the iPhone 5C, but rumors have suggested that the iPhone 5C will share multiple parts with the iPhone 5, making it more likely that the new component design is intended for Apple's iPhone 5S.


Photos of iPhone 5S components have depicted a pill-shaped dual-LED flash to replace the current circular flash on the iPhone 5. A dual-LED flash would improve the performance of the iPhone's flash, creating better lit, less harsh flash photos in low light conditions.


While the camera module does not reveal information about the camera's specs, the iPhone 5S is expected to come with a 12-megapixel rear camera with a larger aperture for improved low light photography. It is also rumored to feature a new slow motion photography mode to complement its current panoramic capabilities.