Tim Cook Heads Back to China as Retail Presence Nearly Doubles
Bloomberg reports that Apple CEO Tim Cook is in the midst of a return trip to China, some ten months after his last trip to meet with government and business leaders.
Cook today met Miao Wei, head of the Ministry of Industry and Information Technology, to talk about the development of China's information technology industry, global mobile communications and Apple's business in China, according to a statement posted on the ministry's website.
The report notes that Apple has nearly doubled the number of its retail stores in China and Hong Kong since Cook's last visit, having opened five new stores for a total of 11 company-owned stores in the region.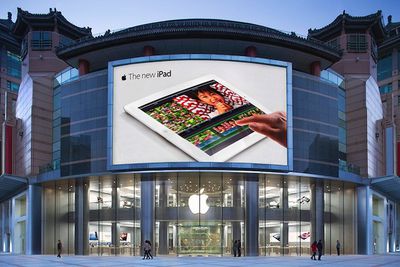 Apple's new Wangfujing retail store in Beijing
Cook's schedule for the remainder of his visit has not been released, although
The Next Web notes
that U.S. embassy Chief of Staff Jim Scuitto
posted a Tweet
revealing that Cook had met with U.S. ambassador Gary Locke.
There will also undoubtedly be speculation that Cook may be seeking to finalize an iPhone deal with China Mobile, the world's largest carrier and the only one of China's three major state-owned carrier to not officially offer the device. Cook had visited the carrier's headquarters in June 2011, but no deal has yet been announced amid continuing negotiations.
China Mobile is reportedly losing traction with 3G customers as rivals China Telecom and China Unicom have made inroads, with many believing that China Mobile's lack of the iPhone is a major weakness for the carrier.