A Look at Apple's Possible External and Internal Options for Next Retail Chief
With retail chief John Browett having departed Apple just months after his arrival, the company clearly acknowledged that he was not a good fit for the company. Browett's departure was preceded by staffing controversy within the company's retail division amid reports that Browett's focus on profits over customer satisfaction was having a negative impact on both employees and customers.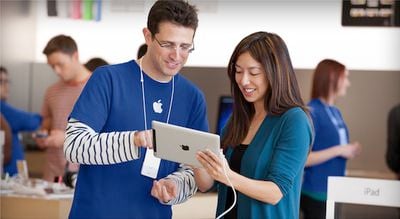 Apple is of course now once again looking for a leader for its retail division, and AllThingsD takes a look at Apple's options, noting that the stakes are higher than ever with Apple unable to afford another miss with this hire. In looking at possible external candidates, AllThingsD notes that international experience may again play an important role as it did with Browett, given Apple's focus on expanding its retail footprint outside of the United States.
"Apple's next frontier is to really grow the brand Internationally," Neil Stern, a senior partner at retail consultancy McMillan Doolittle LLP, told AllThingsD. "So brands like Nike, Coach, Burberry and Starbucks spring to mind as being 'models,' perhaps, of where an individual might have that experience."

We've been asking around for weeks about possible external candidates for Apple's senior VP of retail job, and have heard largely the same thing, and a few names to boot. They are, in no particular order:

- Burberry CEO Angela Ahrendts
- Victor Luis, president, International Group, Coach
- Jeanne Jackson, president, Direct to Consumer, Nike
- John Culver, president, Starbucks Coffee China and Asia Pacific
- Paul Gainer, executive vice president, Global Disney Store
As for internal candidates, AllThingsD cites the usual three suspects from Apple's retail division: manager Steve Cano, real estate chief Bob Bridger, and vice president Jerry McDougal. McDougal was cited as a solid option during the last round, and Cano gained notice after it was incorrectly reported that he had been chosen to succeed Ron Johnson following Johnson's departure to lead department store chain JC Penney.
Johnson himself issued a brief statement to AllThingsD, noting that Apple will likely take its time in searching for the best possibly candidate.
"I think Tim will take his time with this," Johnson told AllThingsD. "The internal team is very strong and capable of running well until he finds the right person."
But for the time being, Apple's retail team will continuing operating under the guidance of its experienced group of executives and report directly to Tim Cook.