Former Retail Store Manager Steve Cano to Succeed Ron Johnson as Apple Retail Chief? [Updated]
Yesterday, we noted that Apple senior vice president for retail Ron Johnson had been removed from Apple's list of senior executives, in line with his previously-announced departure to become CEO of department store chain J.C. Penney. The transition occurred with no announcement from Apple regarding Johnson's successor.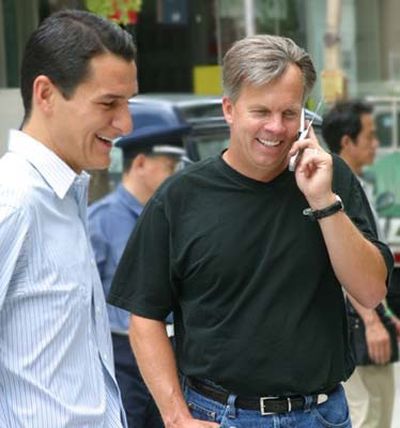 Steve Cano (left) and Ron Johnson (right) at 2004 grand opening of Shinsaibashi store in Osaka, Japan (Source: ifoAppleStore)
Cult of Mac now reports
that Steve Cano has been elevated to the position of senior vice president for retail, heading up the successful division as part of the executive leadership team.
Apple's new retail boss boss isn't just some suit, though. He's one of the first retail employees Apple ever hired, a California surfer dude who has climbed from the sales floor to the very top rung of Apple management.

It's a real rags-to-riches story that should be inspiration to every stressed out Apple Store sales associate or overworked Genius: your work can be noticed, and you too can go to the very top.

According to our source, Apple is replacing Johnson with his long-time lieutenant, Steve Cano.
According to the report, Cano began his career at Apple ten years ago as manager of the Palo Alto retail store, later moving to open the SoHo store in New York City. Consistent with previous reports of Apple looking for a candidate with international retail experience, Cano has spent the last seven years working on Apple's international retail efforts, first in Japan as manager of the Ginza store in Tokyo and then as regional director there. Cano then moved to London, where he has been serving as senior director of international retail for the last several years.
Update: Apple has issued a brief statement to Cult of Mac indicating that the search for Johnson's successor is still continuing.
Apple has gotten back to us a statement, reading: "The search for a replacement for Ron Johnson continues, and Apple has nothing to announce about this subject at this time."